Investing.com - The U.S. dollar traded higher against its major counterparts Monday, as Spain entering its second economic recession triggered a risk off flight to the safety of the greenback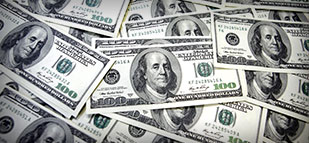 During U.S. afternoon  trade, the dollar was higher against the euro, with
EUR/USD
  giving back 0.17% to hit 1.3231.
U.S. economic data indicated manufacturing activity in the Chicago area slowed significantly more-than-expected in April, while a separate report showed that consumer spending slowed last month.
The Chicago purchasing managers' index fell by 6.0 points to a seasonally adjusted 56.2 in April from a reading of 62.2 in March. That was the lowest reading since November 2009. Analysts had expected the index to decline by 1.2 points to 61.0 in April.
The Bureau of Economic Analysis said consumer spending rose by 0.3% in March, slowing from 0.9% the previous month, while incomes rose a better-than-expected 0.4%.
But the euro remained under pressure after official data confirmed that Spain's economy entered a recession in the first quarter, adding to fears that the government will struggle to meet deficit reduction targets.
The greenback pulled back from an eight-month low against the pound, with 
GBP/USD
 sliding 0.13% to hit 1.6244.
The pound remained supported despite official data last week showing that the U.K. economy entered a recession in the first quarter, as investors continued to view sterling as a safe alternative to the euro and the dollar.
Elsewhere, the greenback was lower against the yen but edged higher against the Swiss franc, with 
USD/JPY
 shedding 0.43% to hit 79.92 and
USD/CHF
 adding 0.15% to hit 0.9076.
The greenback was broadly higher against its Canadian, Australian and New Zealand counterparts, with 
USD/CAD
 advancing 0.72% to hit 0.9875, 
AUD/USD
 shedding 0.53% to hit 1.0416 and 
NZD/USD
 losing 0.38% to hit 0.8187.
In Canada earlier, official data showed that gross domestic product contracted by a seasonally adjusted 0.2% in February, defying expectations for growth of 0.2%, led lower by temporary shutdowns in oil and mining production.
The dollar index, which tracks the performance of the greenback versus a basket of six other major currencies, was up 0.13% at 78.88.
In other single currency bearish news Monday, ratings agency Standard & Poor's announced widespread credit ratings downgrades on Spain's troubled banking sector, following a two notch downgrade of the country's sovereign credit rating last week.