Investing.com - The U.S. dollar gained ground against the Japanese yen during Monday's Asian session even after the International Monetary Fund said last week the yen has depreciated too much too rapidly.
In Asian trading Monday,
USD/JPY
rose 0.18% to 100.62 after earlier trading as high as 100.73. The dollar fell 0.55% last week against the yen. The pair is likely to find support at 99.85, the low of April 13, 20090 and resistance at 101.27, Friday's high.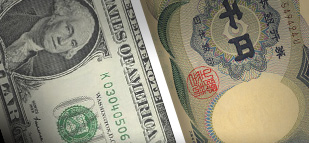 Last Friday, the International Monetary Fund warned Japan that the yen is weak enough, reversing comments where it said the Japanese currency was overvalued. The IMF said "We appreciate that the attempt to escape deflation has had an effect on the exchange rate and our assessment is right now that leaves the exchange rate moderately below what would be consistent with medium-term norms."
A study by the Peterson Institute for International Economics, a Washington-based think tank, echoed those comments. That group said the yen has fallen too far and that the Group of Seven nations may consider intervening the foreign currency market in an effort to stem the tide of their currencies' gains against the yen.
The yen has fallen 25% since September, though the G7 has largely been supportive of Japan's efforts to combat deflation through a falling currency.
The U.S. Treasury recently said it was keeping an eye on Japan to ensure the countries policies are aimed at defeating deflation not directly weakening the yen.
The Peterson Institute for International Economics said it was still unclear whether
USD/JPY
's recent flirtation with 100 is a legitimate reversal or just a blip before the yen weakens further against the greenback.
Elsewhere,
EUR/JPY
rose 0.21% to 130.82 while
AUD/JPY
climbed 0.55% to 96.72.
NZD/JPY
added 0.37% to 80.13.