Investing.com - The greenback traded lower against most of its major counterparts Friday as unsubstantiated reports of an imminent Spanish bailout by the European Central Bank helped lift sentiment for the risk on trade.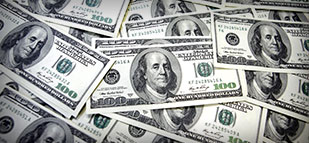 During European trade, the dollar eased lower against the euro, with 
EUR/USD
 climbing 0.03% to 1.2974. The euro turned bullish after a news report that European Union authorities are  covertly working  toward a Spanish rescue program and unlimited bond buying by the European Central Bank, to be revealed next week.
Meetings between the Spanish government and the European Commission were said to be  discussing measures that would be demanded by international lenders as part of a new rescue program, ensuring they are in place before a bailout is formally requested.
According to the newspaper, negotiations have been conducted directly with Spain's Finance Minister Luis de Guindos and the plan will focus on structural reforms, rather than new taxes and spending cuts. 
The greenback was also lower against the pound, with 
GBP/USD
advancing 0.32% to 1.6267.
Government data revealed  U.K. public sector net borrowing rose to GBP12.4 billion in August, below the expected increase to GBP13.3 billion, following a reading of minus GBP1.9 billion the previous month.
Elsewhere, the greenback was steady against the yen, with 
USD/JPY
dropping 0.06% to hit 78.20, and lower against the Swiss franc, with
USD/CHF
 falling 0.06% to trade at 0.9326.
In its quarterly bulletin, the Swiss National Bank reported it is leaving the minimum exchange rate unchanged at CHF1.20 per euro, and will continue to enforce it with the utmost determination. 
In addition, the greenback was broadly lower against its Canadian, Australian and New Zealand counterparts, with 
USD/CAD
 falling 0.30% to 0.9741, 
AUD/USD
 rallying 0.73% to 1.0512 and 
NZD/USD
 climbing 0.44% to hit 0.8326.
Earlier in the day, the Conference Board said that its leading index of economic indicators for Australia was flat in July, following an upwardly revised 0.5% rise the previous month.
The dollar index, which tracks the performance of the greenback versus a basket of six other major currencies, dropped 0.13%, to trade at 79.39.
Traders were experiencing light volumes Friday as there are no significant economic events scheduled for the session.