Investing.com - The pound ended the week at a three-week high against the U.S. dollar on Friday, as market sentiment strengthened after the release of encouraging German economic data and amid hopes for progress on a financial aid deal for Greece.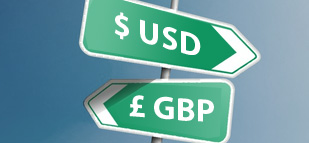 GBP/USD
hit 1.6049 on Friday, the pair's highest since November 2; the pair subsequently consolidated at 1.6025 by close of trade on Friday, up 0.87% on the week.
Cable is likely to find support at 1.5881, Friday's low and resistance at 1.6174, the high of October 28.
Market sentiment improved after Greece's Finance Minister said the International Monetary Fund had relaxed its debt-cutting target for the country, suggesting lenders were closer to a deal for a vital aid tranche to be paid.
However, other sources involved in the talks cautioned that the funding gap was far bigger than Greece has suggested.
Talks between finance ministers and the International Monetary Fund ended without a deal on Tuesday, amid disagreements on how best to reduce the country's debt to sustainable levels.
Investor confidence also strengthened after the German Institute for Economic Research earlier said that its index of business confidence improved to 101.4 in November from a reading of 100.0 the previous month, beating expectations for a decline to 99.5.
Meanwhile, in the U.K., the British Bankers' Association said in a report Friday that mortgage approvals in the U.K. rose more-than-expected in October, advancing to 33,000 from 31,500 the previous month.
Analysts had expected mortgage approvals to rise to 32,300 in October.
The data came after the minutes of the Bank of England's November meeting published earlier in the week showed that policymakers were split over more monetary easing.
The BoE minutes showed that one policymaker voted in favor of more monetary easing this month, calling for an additional GBP25 billion.
The minutes also said that the U.K. economic recovery is being impaired by the ongoing debt crisis in the euro zone, government austerity measures and banks reluctance to lend.
Elsewhere, investors continued to remain concerned over the U.S. fiscal cliff, automatic tax hikes and spending cuts due to come into effect on January 1.
There are fears the U.S. economy will fall back into a recession, unless a divided Congress and the White House can work out a compromise in the six weeks left before the January 1 deadline.
In the week ahead market participants will be focusing on developments relating to the U.S. fiscal cliff, as well as Monday's meeting of the euro group of finance ministers to discuss unlocking Greece's next aid installment.
Investors will also be anticipating revised data on third quarter U.K. economic growth, as well as the BoE's Financial Stability Report.
Ahead of the coming week, Investing.com has compiled a list of these and other significant events likely to affect the markets. The guide skips Monday, as there are no relevant events for that day.
Tuesday, November 27
The U.K. is to release revised third quarter gross domestic product data, followed by a preliminary report on business investment, a leading indicator of economic health.
Meanwhile, the U.S. is to release official data on durable goods orders, a leading indicator of production, as well as industry data on house price inflation, an important indicator of demand in the housing sector.
In addition, the Conference Board is to publish data on U.S. consumer confidence, while Federal Reserve Chairman Ben Bernanke is to deliver brief remarks at the National College Fed Challenge Finals, in Washington D.C.
Wednesday, November 28
The U.S. is to release official data on new home sales, a leading indicator of economic health, as well as government data on crude oil inventories. Later Wednesday, the Fed is to publish its Beige Book.
Thursday, November 29
In the U.K., Bank of England Governor Mervyn King is due to speak before the release of the central bank's financial stability report. The BoE is also slated to publish a report on net lending to individuals.
Later in the day, the U.S. is to produce revised data on third quarter gross domestic product, as well as data on pending home sales and initial jobless claims.
Friday, November 30
The U.S. is to release government data on personal income, personal spending and core consumer inflation. The U.S. is also to publish official data on manufacturing activity in Chicago.