Investing.com - The pound remained slightly higher against the U.S. dollar on Thursday, after the release of mixed U.S. economic data, as investors awaited a key U.S. employment report on Friday.
GBP/USD
hit 1.5842 during U.S. morning trade, the pair's highest since January 24; the pair subsequently consolidated at 1.5822, adding 0.14%.
Cable was likely to find support at 1.5762, the low of January 27 and resistance at 1.5852, the high of January 24.
Market research group Kingsbury International said its Chicago purchasing managers' index rose to a seasonally adjusted 55.6 in January from a revised reading of 50.0 in December.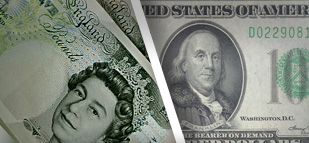 Analysts had expected the index to improve to 50.5 in January.
Also Thursday, the Department of Labor said the number of individuals filing for initial jobless benefits last week rose by 38,000 to a seasonally adjusted 368,000, compared to expectations for an increase of 20,000 to 350,000.
A separate report showed that personal incomes in the U.S. jumped 2.6% in December, the largest increase in eight years, while personal spending rose 0.2%, below expectations for a 0.3% increase.
The data came one day after the Federal Reserve said it would continue to pursue its easing program and reiterated that it would hold interest rates close to zero until the U.S. unemployment rate falls below 6.5%.
Meanwhile, concerns over the faltering economic recovery in the U.K. continued to curb demand for sterling after data last week showed that the U.K. economy contracted 0.3% in the fourth quarter, putting Britain on track for a triple-dip recession.
Sterling was higher against the euro with
EUR/GBP
slipping 0.11, to hit 0.8576.
Also Thursday, German retail sales fell 1.7% in December, the sharpest drop in more than three years.
This was offset by a report showing that the number of unemployed people in Germany fell by 16,000 in January, double expectations for a decline of 8,000 bringing the unemployment rate down to 6.8% from 6.9% in December.