Investing.com - The euro was steady at 14-month highs against the dollar on Thursday, supported by the view that the crisis in the euro zone has turned a corner while the dollar remained under pressure after the Federal Reserve pledged to maintain its easing program.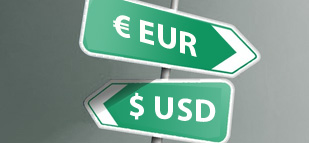 EUR/USD
hit 1.3584 during U.S. morning trade, the session high; the pair subsequently consolidated at 1.3570, inching up 0.03%.
The pair was likely to find support at 1.3481, Wednesday's low and near-term resistance at 1.3586, Wednesday's high and the pair's highest since November 18, 2011.
At the outcome of its latest policy meeting on Wednesday the Fed said it would continue to pursue its easing program and reiterated that it would hold interest rates close to zero until the U.S. unemployment rate falls below 6.5%.
Market sentiment remained cautious after data on Wednesday showed that the U.S. economy unexpectedly contracted by 0.1% in the fourth quarter, a sharp slowdown from growth of 3.1% in the preceding quarter.
Earlier Thursday, the U.S. Department of Labor said the number of individuals filing for initial jobless benefits last week rose by 38,000 to a seasonally adjusted 368,000, compared to expectations for an increase of 20,000 to 350,000.
A separate report showed that personal incomes in the U.S. jumped 2.6% in December, the largest increase in eight years.
Investors were looking ahead to U.S. data on nonfarm payrolls on Friday after Wednesday's ADP nonfarm payroll report showed that the U.S. private sector added 192,000 jobs in January, above expectations for an increase of 165,000.
Elsewhere, the euro was trading close to one-year highs against the pound, with
EUR/GBP
dipping 0.04% to 0.8581 and was hovering near 33-month highs against the yen with
EUR/JPY
easing up 0.11% to 123.70.
The euro touched session lows against the dollar earlier after data showed that German retail sales fell 1.7% in December, the sharpest drop in more than three years.
Elsewhere, Germany's largest bank Deutsche Bank posted a surprise net loss of EUR2.2 billion for the fourth quarter.
This was offset by a report showing that the number of unemployed people in Germany fell by 16,000 in January, double expectations for a decline of 8,000 bringing the unemployment rate down to 6.8% from 6.9% in December.