Investing.com - The dollar remained stronger against the euro on Monday after the Federal Reserve indicated last week that it is prepared to start rolling back its asset purchase program this year.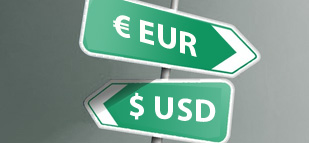 EUR/USD
hit 1.3077 during European afternoon trade, the pair's lowest since June 6; the pair subsequently consolidated at 1.3098, sliding 0.19%.
The pair was likely to find support at 1.3041, the low of June 4 and resistance at 1.3150.
The dollar strengthened across the board after Fed Chairman Ben Bernanke said last Wednesday that the bank could begin tapering bond buying by the end of 2013 if the economy continues to pick up.
Sentiment on the euro remained fragile as peripheral euro zone bond yields continued to grind higher amid concerns over the prospect of an end to the Fed's stimulus program.
The yield on Spanish 10-year bonds rose above 5% for the first time since early April on Monday, up from 4.88% on Friday. Meanwhile, the yield on Italian 10-year bonds climbed to 4.7% from 4.58% on Friday.
The single currency showed little reaction after a report showed that the Ifo index of German business climate improved to 105.9 in June from 105.7 in May, in line with market expectations.
Elsewhere, the euro was higher against the pound and the yen, with
EUR/GBP
rising 0.24% to 0.8528 and
EUR/JPY
climbing 0.25% to 128.69.
Also Monday, Greek political leaders were holding talks to discuss a cabinet reshuffle after the Democratic Left party withdrew from the coalition government on Friday in protest over its decision to shut down the state broadcaster, leaving the government with only a slim majority in parliament.