Investing.com - The euro remained lower against the dollar on Tuesday, as hopes that the economic recovery in the U.S. is gaining traction continued to support investor demand for the dollar.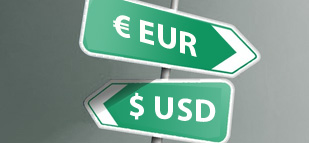 EUR/USD
hit 1.2992 during U.S. morning trade, the session low; the pair subsequently consolidated at 1.3031, sliding 0.12%.
The pair was likely to find support at 1.2954, Friday's low and a three-month low and resistance at 1.3100, the high of March 1.
The dollar remained broadly stronger after data on Friday showed that the U.S. economy added significantly more jobs than forecast in February, with the unemployment rate falling to a four-year low of 7.7%.
The robust data fuelled speculation over an earlier-than-expected end to the Federal Reserve's easing program.
Investors were looking ahead to U.S. data on retail sales on Wednesday to determine the durability of the economic recovery.
The single currency remained under pressure amid concerns over the economic outlook for the euro zone, while worries over ongoing political uncertainty in Italy also weighed.
Elsewhere, the euro was higher against the pound and was lower against the yen, with
EUR/GBP
rising 0.22% to 0.8765 and
EUR/JPY
down 0.555 to 124.92.
Sterling weakened broadly after official data showed that manufacturing output in the U.K. fell sharply in January, reinforcing concerns over prospects for a triple-dip recession and more easing by the Bank of England.
The Office for National Statistics said that manufacturing production dropped 1.5% in January, missing expectations for a 0.1% increase.
Industrial output also missed forecasts for 0.1% increase, falling 1.2% in January.