Investing.com - The euro rose against the dollar on Wednesday after weaker-than-expected service-sector and jobs data out of the U.S. sent investors avoiding the dollar on sentiments that the Federal Reserve will keep monetary stimulus measures in place.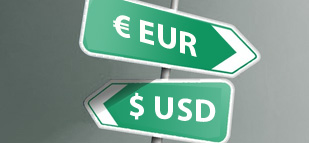 The dollar weakens as a side effect to monetary stimulus tools such as the Fed's USD85 billion monthly bond-buying program.
In U.S. trading on Wednesday,
EUR/USD
was up 0.17% at 1.2839, up from a session low of 1.2790 and off from a high of 1.2864.
The pair was likely to find support at 1.2772, Monday's low, and resistance at 1.2877, Tuesday's high.
The Institute of Supply Management reported earlier its non-manufacturing purchasing managers' index fell to 54.4 in March from 56.0 in February.
Analysts had expected the index to decline to 55.8 last month, which weakened the greenback.
Separate industry data revealed that the U.S. private sector added fewer jobs than expected last month.
Payroll processor ADP reported earlier that nonfarm payrolls increased by 158,000 in March, well below expectations for a gain of 200,000, following an upwardly revised increase of 237,000 in February.
The numbers sparked concerns that Friday's official March jobs report may miss earlier expectations for a pickup in job creation.
Meanwhile in Europe, preliminary data released earlier revealed that the euro area's year-on-year consumer price index inched down to 1.7% in March from 1.8% in February, slightly above forecasts for inflation of 1.6%.
Many market participants remained on the sidelines ahead of the European Central Bank's upcoming policy meeting on Thursday.
While no changes to monetary policy are expected, many remained in wait-and-see mode ahead of ECB President Mario Draghi's press conference that will take place when the policy meeting concludes.
The euro, meanwhile, was down against the pound and down against the yen, with
EUR/GBP
trading down 0.04% at 0.8482, and
EUR/JPY
trading down 0.30% at 119.38.
On Thursday, markets will eagerly await the European Central Bank's announcement on monetary policy.
The U.S. is to release the weekly government report on initial jobless claims. Fed Chairman Ben Bernanke is to speak in public, and his comments will be closely watched for any indications on the future possible direction of monetary policy.