Investing.com - The euro firmed against the dollar on Tuesday after investors digested conflicting economic data out of the U.S. and Europe and later decided the conditions were healthy enough to ditch the safe-haven dollar and chase yield.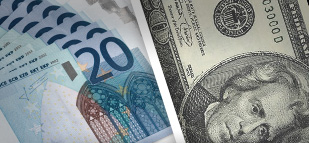 In U.S. trading on Tuesday,
EUR/USD
was up 0.76% at 1.3136, up from a session low of 1.3021 and off from a high of 1.3151.
The pair was likely to find support at 1.3021, the earlier low, and resistance at 1.3162, the high from Feb. 27.
In Europe earlier, Germany's ZEW index of economic sentiment index dropped to 36.3 in April from 48.5 in March, falling short of market expectations for a 42.0 reading.
The broader eurozone ZEW economic sentiment index ticked down to 24.9 this month from 33.4 in March, also falling short of market expectations, which were forecasting a 31.5 reading.
Prices in Europe, however, remain stable.
Eurostat reported earlier that the eurozone's consumer price index remained unchanged at an annualized rate of 1.7% in March, in line with expectations.
Core CPI in the single currency bloc rose 1.5% last month, up from 1.3% in February and beating market expectations for a rise to 1.4%.
Meanwhile in the U.S., the Census Bureau reported earlier that building permits rose by 902,000 in March, less than market calls for 940,000 increase and also below the 968,000-unit rise in February.
Housing starts, however, rose by 1.036 million units last month, beating market forecasts for an increase of 930,000 after a rise of 986,000 in February.
Separate government data revealed that consumer inflation dipped in March due in part to falling fuel prices.
The U.S. Bureau of Labor Statistics reported earlier Tuesday that the country's consumer price index fell 0.2% in March after rising 0.7% in February, missing expectations for a 0.1% gain.
Separately, the U.S. core CPI, which is stripped of volatile food and energy costs, rose 0.1% in March, missing expectations for a 0.2% increase after a 0.2% rise the previous month.
In addition, the Federal Reserve reported that U.S. industrial production rose 0.4% in March, beating expectations for a 0.2% gain after a 1.1% increase the previous month, which gave investors reason to abandon the safe-haven dollar and seek higher-yielding currencies.
Recoveries in commodities markets also enticed investors out of the safety of the greenback.
The euro, meanwhile, was up against the pound and up against the yen, with
EUR/GBP
trading up 0.67% at 0.8588, and
EUR/JPY
trading up 2.10% at 128.78.
On Wednesday, Germany is to hold an auction of 10-year government bonds.
The U.S. will release industry data on mortgage applications as well as official data on oil inventories.
The Federal Reserve will release its Beige Book survey.