Investing.com - The euro weakened against the U.S. dollar on Wednesday after industry data revealed that private-sector hiring grew at a faster clip in February than expected, fueling talk the Federal Reserve may soon consider winding down stimulus programs that weaken the greenback to spur recovery.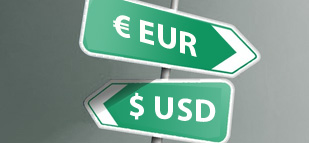 Talk of a possible rate cut in Europe pushed the single currency down as well.
In U.S. trading on Wednesday,
EUR/USD
was down 0.45% at 1.2992, up from a session low of 1.2983 and off from a high of 1.3071.
The pair was likely to find support at 1.2967, Friday's low, and resistance at 1.3162, last Thursday's high.
In the U.S., payroll processor ADP reported earlier that private-sector, non-farm payrolls rose by 198,000 in February, beating expectations for an increase of 170,000.
January's figure was revised up to a gain of 215,000 from a previously reported increase of 192,000.
Elsewhere, the U.S. Census Bureau reported that factory orders fell by 2% in January, less than market calls for a drop of 2.2%.
The data rekindled recently waning talk that the Federal Reserve may be closer to winding down monetary stimulus tools, including a monthly USD85 billion bond-buying program known as quantitative easing, which weakens the dollar by flooding the financial system full of liquidity to spur recovery.
Meanwhile across the Atlantic, the European Central Bank will conclude a two-day monetary policy meeting on Thursday, and talk of hints for future rate cuts to drive the economy towards recovery pushed the euro down against the dollar as well.
Data released earlier on Wednesday revealed that the eurozone economy shrank by 0.6% in the fourth quarter, in line with the preliminary estimates and economists' predictions.
The euro, meanwhile, was up against the pound and up against the yen, with
EUR/GBP
trading up 0.22% at 0.8647, and
EUR/JPY
trading up 0.18% at 121.96.
On Thursday, the ECB will announce its benchmark interest rate and host a press conference afterwards with President Mario Draghi.
Germany is to produce official data on factory orders, a leading economic indicator.
The U.S. is to publish its weekly government report on initial jobless claims and official data on the trade balance.