Investing.com - The U.S. dollar rose against the euro on Friday as investors remained camped in the safe-haven greenback to see if the White House and Congress work through a budgetary impasse.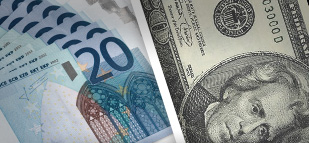 Failure to agree on fiscal framework will allow tax breaks to expire at the end of the year alongside deep spending cuts, a combination known as a fiscal cliff that could push the U.S. economy into a recession next year.
In U.S. trading on Friday,
EUR/USD
was trading down 0.12% at 1.3222, up from a session low of 1.3166, and off from a high of 1.3256.
The pair was likely to find support at 1.3159, the low from Dec. 21, and resistance at 1.3284, the high from Dec. 27.
In the U.S., President Barack Obama was to meet congressional leaders later Friday at the White House to discuss ways to avoid the fiscal cliff.
Sticking points between the White House and congressional Republicans include tax rates on top U.S. earners and accompanying spending cuts.
Investors remained on edge with just days to go before the U.S. goes off the cliff despite positive data out of the U.S.
In the U.S. earlier, the National Association of Realtors revealed that pending home sales beat expectations in November, rising by 1.7% after a 5% increase the previous month.
Analysts were expecting pending home sales to rise by 1.0% in November.
Elsewhere in the U.S., the Chicago's purchasing managers' index rose to 51.6 in December, up from 50.4 in November and beating expectations for a rise to 51.0.
Meanwhile in Europe, the Markit research group reported earlier that the eurozone's retail purchasing managers' index fell to 44.5 in December from 45.8 the previous month.
Elsewhere, official data revealed that French consumer spending rose 0.2% in November, more than market forecasts for a 0.1% increase and from a 0.1% decline the previous month.
Also in France, the country's gross domestic product rose less than expected in the last quarter.
The country's National Institute for Statistics and Economic Studies said that French GDP rose by a seasonally adjusted 0.1% in the third quarter from 0.2% in the preceding quarter.
Analysts were expecting French GDP to rise 0.2% in the third quarter.
The euro, meanwhile, was down against the pound and down against the yen, with
EUR/GBP
trading down 0.52% at 0.8179, and
EUR/JPY
trading down 0.11% at 113.86.