Investing.com - The euro slid to four-month lows against the dollar on Tuesday as Cyprus mulled a European Union proposal to levy taxes on bank deposit holders.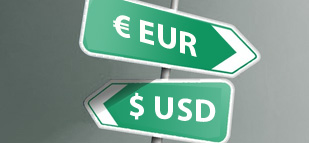 Rejection of the measures could prompt the E.U. to withhold EUR10 billion in bailout money for the Mediterranean nation.
Better-than-expected data out of the U.S. housing sector sent the pair falling as well, as did reports in Greek media that Cyprus's finance minister may step down.
In U.S. trading on Tuesday,
EUR/USD
was down 0.60% at 1.2879, up from a session low of 1.2856 and off from a high of 1.2970.
The pair was likely to find support at 1.2691, the low from Nov. 16, 2012, and resistance at 1.3107, Friday's high.
The Cypriot parliament has yet to approve a E.U. proposal to slap taxes on all bank deposits, which kept the euro lower against the greenback.
Policymakers were scrambling to find ways to raise EUR5.8 billion to comply with E.U. bailout terms in ways that did not involve asking bank depositors to take a haircut to help restore the country to fiscal health at the time of writing on Tuesday.
The one-time tax taking aim at Cypriot bank deposit holders as part of a EUR10 billion bailout plan sent the euro falling below 1.2900 mark for the first time since late 2012 amid fears that eurozone bailouts have crossed the line and have put an end to the do-not-touch status of bank deposits.
Meanwhile, Greek newspaper eKathimerini reported that Cyprus's Finance Minister Michalis Sarris might step down as speculation mounted that the island nation's parliament might reject a bill to impose a tax on bank deposits over EUR20,000.
Elsewhere in Europe, Germany's Zew index of investor confidence hit a three-year high in March, coming in at 48.5 compared to February's 48.2 reading.
Analysts were expecting a dip to 48.0, though uncertainty in Cyprus eclipsed the otherwise widely watched indicator.
Meanwhile in the U.S., the Federal Reserve began a two-day monetary policy meeting Tuesday, and expectations were widespread for the monetary authority to leave policy unchanged, which bolstered the dollar's appeal.
Better-than-expected housing data did likewise.
The Commerce Department reported earlier that the number of building permits issued in February hit its highest level since June 2008.
Housing starts beat expectations as well, cementing widespread views that the country's economic recovery is gaining steam.
Building permits issued in February rose 4.6% to 946,000 units, above market calls for a 2.3% increase to 925,000.
U.S. housing starts, meanwhile, rose by 0.8% in February to 917,000 units, better than analysts' calls for a jump to 915,000.
The euro, meanwhile, was down against the pound and down against the yen, with
EUR/GBP
trading down 0.63% at 0.8523, and
EUR/JPY
trading down 0.90% at 122.26.
Markets on Wednesday will continue to move on any news out of Cyprus and will track the Federal Reserve's policy statement as well.