Investing.com - The euro softened against the dollar on Friday after official data on orders for durable goods in the U.S. blew past market expectations.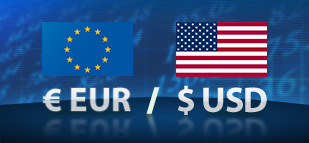 In U.S. trading on Friday,
EUR/USD
was down 0.06% at 1.2927, up from a session low of 1.2905 and off from a high of 1.2994.
The pair was likely to find support at 1.2821, Thursday's low, and resistance at 1.2994, the earlier high.
In the U.S., the Commerce Department reported that core durable goods orders, which are stripped of volatile transportation items, rose 1.3% in April, beating expectations for a 0.5% increase after contracting by 1.7% in March.
Broader orders for durable goods, which include transportation items, rose 3.3% last month, more than market calls for a 1.5% increase after a 5.9% contraction in March.
The numbers sparked demand for the greenback by stoking sentiments that the Federal Reserve may be closer to winding down monetary stimulus programs.
Stimulus tools such as the Fed's monthly USD85 billion bond-buying program weaken the dollar to spur recovery, and talk of their dismantling can strengthen the greenback.
Positive sentiment data out of Europe capped the single currency's losses.
In Europe earlier, the Ifo Institute said its German business climate index rose to 105.7 in May from 104.4 in April, beating expectations for an increase to 104.5.
The report came after data showed that the Gfk German consumer climate index made an unexpected gain in May, rising to 6.5 from a 6.2 in April.
Analysts were expecting the index to remain unchanged this month.
Elsewhere, Germany's gross domestic product grew 0.1% in the first quarter from the fourth quarter of last year, in line with expectations.
The euro, meanwhile, was down against the pound and down against the yen, with
EUR/GBP
trading down 0.22% at 0.8542, and
EUR/JPY
trading down 1.11% at 130.43.