Investing.com - The euro rose against the yen on Friday, buoyed by reports that Spain may be close to requesting financial assistance from multilateral financial bodies.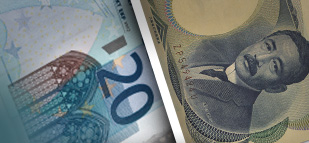 The yen, meanwhile, moved lower in wake of a Bank of Japan move to stimulate its economy, though the pair regained composure in afternoon U.S. trading.
In U.S. trading on Friday,
EUR/JPY
hit 101.50, up 0.03%, up from a low of 101.26 and off a high of 102.10.
The pair sought to test support at 101.50, the earlier low, and resistance at 102.10, the earlier high.
The Financial Times reported earlier that Spain is moving closer to requesting a sovereign bailout and is currently working out the details with European Union policymakers.
A bailout would allow the European Central Bank to step in and buy Spanish sovereign debt, which would lower borrowing costs in the large European economy.
Yields on Spanish 10-year bonds this year have repeatedly soared above the 7% threshold considered unsustainable by the markets.
Meanwhile, the Bank of Japan decided earlier this week to increase the size of its monthly bond purchases by JPY10 trillion to a total of JPY80 trillion, a stimulus move that kept the yen weaker against the European single currency.
The JPY10 trillion increase in the asset-purchase program will be split equally towards additional purchases of treasury discount bills and Japanese government bonds, the central bank said in a statement.
The Bank of Japan also left its policy interest-rate target unchanged in the current range of zero to 0.1%
The euro, meanwhile, was down against the pound and up against the Canadian dollar, with
EUR/GBP
trading down 0.04% at 0.7995 and
EUR/CAD
trading up 0.15% at 1.2690.