Investing.com - The U.S. dollar is trading lower against most of its major rivals during Friday's Asian session as traders appear to be taking profits in the greenback on speculation the currency is due for a breather in its recent rally.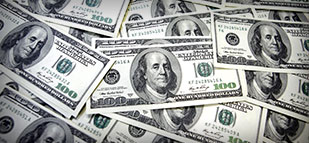 In Asian trading Friday,
EUR/USD
rose 0.05% to 1.3012. On Thursday at the European Union summit in Brussels, France called for greater budgetary flexibility so that member nations will be able to stimulate their economies more and steer the euro zone back towards recovery. France is the region's third-largest economy.
GBP/USD
rose 0.06% to 1.5092 on speculation of short-covering in that pair. Sterling is one of the worst-performing developed market currencies in the world this year. After its recent slide, some traders are also viewing the U.K. currency as attractively priced against an overbought dollar.
USD/CHF fell 0.09% to 0.9464 while USD/CAD lost 0.03% to 1.0219.
In U.S. economic news, initial claims for jobless benefits fell last week by 10,000 to 332,000 claims. Analysts expected an increase to 350,000 claims. The less volatile four-week moving average fell by 2,750 to 346,750.
The Labor Department said its seasonally adjusted producer price index rose 0.7% in February following a 0.2% increase in January. Core PPI, which excludes food and energy prices, rose 0.2%, inline with economists' expectations.
USD/JPY
fell 0.21% to 95.92 on what also appears to be a spell of profit-taking. At least one media report in the U.S. indicates professional money managers there are preparing for more downside in the yen.
AUD/USD
fell slightly by 0.08% to 1.0377 after climbing to a five-week high on Thursday in the U.S. on the back of Australia's strong employment data. On Thursday, official data showed that the Australian economy added 71,500 jobs in February, exceeding expectations for a 9,000 rise, after an increase of 13,000 jobs the previous month.
The report also showed that the unemployment rate in Australia remained unchanged at 5.4% last month, compared to expectations for a rise to 5.5%.
NZD/USD
fell 0.16% to 0.8208 while the U.S. Dollar Index declined 0.12% to 82.75.