Investing.com - The U.S. dollar traded mixed against its major rivals during Monday's Asian session as traders were seen still trying to get a handle on exactly when the Federal Reserve will begin tapering its bond-buying program.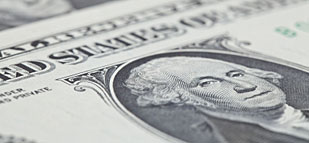 In Asian trading Monday,
EUR/USD
rose 0.06% to 1.3386. Amid a spate of solid economic data points that point to ongoing recovery in the euro zone, the common currency is flirting with six-month highs against the greenback.
An index of euro area economic confidence probably rose to 93.8 this from 92.5 in July, according to Bloomberg. Still, some traders see the euro as overbought at current levels with a decline to the 1.30 area as likely over the next several weeks.
USD/JPY
inched down 0.02% to 98.72. In the week ahead, investors will be looking ahead to revised data on U.S. second quarter growth, as well as reports on the housing sector and consumer confidence. Markets will also be focusing on Japanese data on retail sales and inflation .
GBP/USD
rose 0.08% to 1.5582. Speculation has intensified that the U.K.'s improving economy will prompt the Bank of England to raise interest rates sooner than it has indicated. Earlier this month the BoE said it would keep bank rates on hold at record low levels as long as the U.K. unemployment rate remains above 7%.
USD/CHF
fell 0.07% to 0.9212 while
USD/CAD
rose 0.08% to 1.0507. In U.S. economic news out last Friday, the Commerce Department said new home sales dropped 13.4% last month to an annual rate of 394,000 units. That is the lowest reading in nine months. In July, the median price for a new home sale rose to $257,200, up from $237,400 in the same month of 2012, according to Reuters.
That data point along with a few others out earlier in the week stoked speculation that the Federal Reserve may not immediately move to taper its USD85 billion-per-month bond-buying program. Minutes from the Fed's July policy meeting published last week showed most members agree with tapering at some point this year.
AUD/USD
dropped 0.08% to 0.9020.
NZD/USD
fell 0.05% to 0.7805 after Statistics New Zealand said the country's trade balance fell to a seasonally adjusted NZD774 million last month from NZD414 million in June. Analysts expected a decline to NZD50 million last month.
The U.S. Dollar Index inched down 0.04% to 81.38.