Investing.com - The dollar gained on Monday amid growing sentiments that the Federal Reserve will soon begin to scale back stimulus programs.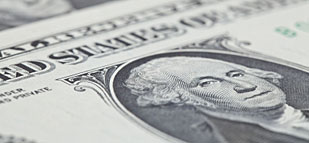 Better-than-expected regional factory and housing data in the U.S. last week came a day after Fed Chairman Ben Bernanke said stimulus programs could end if the economy show signs of improvement.
Monetary stimulus tools such as the Fed's monthly USD85 billion bond-buying program weaken the dollar to spur recovery, and talk of their dismantling can strengthen the U.S. currency.
In U.S. trading on Monday,
EUR/USD
was down 0.03% at 1.3119.
The dollar continued to climb in a session absent of major U.S. economic data mainly on sentiments that recent indicators point to an economy in less need of Federal Reserve support.
The Federal Reserve Bank of Philadelphia said last Thursday that its manufacturing index rose to 12.5 in June from -5.2 in May, well above expectations for a -2.0 reading.
A separate report showed that U.S. existing home sales climbed 4.2% to 5.18 million units in May from April's total of 4.97 million, far surpassing market calls for a 0.6% increase.
The greenback was down against the pound, with
GBP/USD
trading up 0.09% at 1.5436.
The dollar was down against the yen, with
USD/JPY
down 0.11% at 97.74, and down against the Swiss franc, with
USD/CHF
trading down 0.12% at 0.9334.
The dollar was mixed against its cousins in Canada, Australia and New Zealand, with
USD/CAD
up 0.36% at 1.0499
AUD/USD
up 0.42% at 0.9254 and
NZD/USD
trading up 0.14% at 0.7752.
The dollar index, which tracks the performance of the greenback versus a basket of six other major currencies, was up 0.03% at 82.67.