Investing.com - The dollar fell against the world's major currencies on Friday after soft inflation, consumer confidence and industrial output numbers revived market sentiment that the Federal Reserve may take steps that would weaken the dollar to stoke the economy.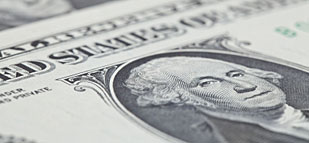 In U.S. trading on Friday, the euro was up against the greenback, with
EUR/USD
gaining 0.71% and trading at 1.3173.
U.S. industrial output came in flat in February, below expectations for a 0.4% gain.
Core inflation rates, which are stripped of volatile food and energy prices, rose 0.1% in February, lower than expectations for a gain of 0.2%.
The Federal Reserve pays close attention to the core inflation rate when setting benchmark interest rates, as the indicator reflects consumer price behavior based on demand and not on seasonal or other transient factors.
Headline inflation rates rose 0.4%, in line with expectations.
Meanwhile the University of Michigan Consumer Confidence index disappointed as well, coming in at 74.3 for March, below expectations for a reading of 75.7.
The data reanimated sentiments that the Federal Reserve may consider rolling out stimulus measures to jolt the economy, including quantitative easing, which are asset purchases from banks that inject liquidity into the economy, weakening the dollar in the process.
Just days before, the Fed doused such expectations when it made no mention of the possibility at a scheduled monetary policy meeting on Tuesday.
The dollar saw some support on Friday, however, that despite fresh talk of Federal Reserve intervention, the U.S. economy is improving and sooner or later, will stand on its own two feet without the help of monetary authorities.
Meanwhile, the dollar was down against the pound, with
GBP/USD
up 0.75% and trading at 1.5829.
The greenback was down against the yen, with
USD/JPY
trading down 0.27% at 83.35, and down against the Swiss franc, with
USD/CHF
down 0.76% and trading at 0.9160.
The greenback was down against its cousins in Canada, Australia and New Zealand, with
USD/CAD
down 0.07% at 0.9913,
AUD/USD
up 0.61% at 1.0589 and
NZD/USD
up 0.60% at 0.8242.
The dollar index, which tracks the performance of the greenback versus a basket of six other major currencies, was down 0.66% at 80.06.
On Monday, the U.S. National Association of Home Builders will release its Housing Market Index, which reveal the direction of single-family home sales.