Investing.com - The dollar extended Monday's losses stemming from worse-than-expected U.S. home sales figures into Tuesday, as market participants traded on renewed expectations that the Federal Reserve will keep monetary stimulus programs in place until recovery gains steam.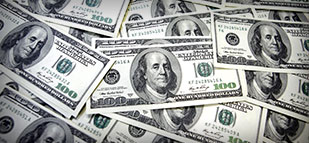 Stimulus programs such as the Fed's USD85 billion monthly bond-buying program tend to weaken the dollar to spur recovery.
In U.S. trading on Tuesday,
EUR/USD
was up 0.30% at 1.3227.
The National Association of Realtors reported on Monday that existing home sales in the U.S. fell 1.2% to 5.08 million units in June, missing market calls for sales to rise 0.6% to 5.25 million units in June.
Sales for May were revised down to 5.14 million from a previously reported 5.18 million.
The report added sales were up 15.2% from June of last year, while average house prices jumped 13.5% on a year-over-year basis.
While the overall report indicated that recovery continues in the housing sector, markets concluded the figures were soft enough to sway monetary authorities to keep stimulus programs in place for now, which pushed the dollar down broadly for most of the day on Tuesday in a quiet session.
Federal Reserve officials have said they will pay close attention to economic data when deciding when to taper and eventually close stimulus programs, though they have added they won't follow specific timetables.
The greenback, meanwhile, was down against the pound, with
GBP/USD
trading up 0.16% at 1.5384.
The dollar was down against the yen, with
USD/JPY
down 0.24% at 99.43, and down against the Swiss franc, with
USD/CHF
trading down 0.15% at 0.9348.
The dollar was down against its cousins in Canada, Australia and New Zealand, with
USD/CAD
down 0.50% at 1.0281,
AUD/USD
up 0.45% at 0.9290 and
NZD/USD
trading up 0.33% at 0.7997.
Earlier Tuesday, Statistics Canada said that June retail sales jumped 1.9% from a month earlier in May, well above expectations for a 0.4% gain, while core retail sales rose 1.2%, compared to expectations for a 0.1% increase, which sent the loonie and other higher-yielding currencies firming against the greenback.
The dollar index, which tracks the performance of the greenback versus a basket of six other major currencies, was down 0.30% at 82.07.
On Wednesday, the U.S. is to release official data on new home sales, a leading indicator of economic health.