Investing.com - The dollar extended Friday's losses against most major currencies on Monday after a disappointing U.S. August jobs report dampened expectations for the Federal Reserve to begin tapering stimulus programs this month.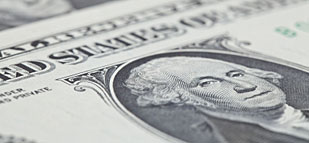 Stimulus programs such as the Fed's USD85 million in monthly asset purchases weaken the dollar to spur recovery, and talk of their staying in place — often the product of disappointing U.S. data — can soften the greenback.
In U.S. trading on Monday,
EUR/USD
was up 0.60% at 1.3260.
The U.S. economy added 169,000 jobs in August, the Bureau of Labor Statistics revealed on Friday, less than market calls for a 180,000 increase.
July 's figure was revised down to 104,000 from 162,000, while June's figure was revised down to 172,000 from 188,000.
The private sector added 152,000 jobs in August, well beneath expectations for a 180,000 rise
The U.S. unemployment rate fell to 7.3% in August, from 7.4% in July, as more people left the workforce. Analysts were expecting the unemployment rate to remain unchanged last month.
The data continued to fuel sentiments that the Federal Reserve may hold off on announcing plans to begin winding down its USD85 billion in monthly bond purchases at its Sept. 17-18 policy meeting.
Even if the Fed does announce plans to taper stimulus programs at its meeting this month it may start out trimming asset purchases very lightly, which could still keep the greenback relatively weak.
Advancing economic indicators in Europe and Asia furthered whetted appetite for risk and repelled investors away from the safe-haven greenback.
The Sentix index of euro zone investor confidence rose to a six-month high of 6.5 in September from -4.9 in August. Analysts were forecasting a -2.8 reading.
The greenback was down against the pound, with
GBP/USD
up 0.44% at 1.5700.
The dollar was up against the yen, with
USD/JPY
up 0.46% at 99.58, and down against the Swiss franc, with
USD/CHF
trading down 0.56% at 0.9322.
In Japan, revised data released earlier showed that the economy expanded by 0.9% in the second quarter, in line with expectations, which sparked demand for higher-yielding asset classes that came at the yen's expense.
The country's economy grew at an annualized rate of 3.8%, higher than an initial estimate of 2.6%, which sparked demand for Japanese stocks in particular.
The yen also came under pressure after Japan won its bid to host the 2020 Summer Olympics, which stoked expectations for increased construction and spending ahead of time.
Separately, China reported that its exports grew 7.2% year-over-year in August, up from 5.1% in July, which painted a picture of an improving global economy and further suppressed yen demand.
The dollar was down against its cousins in Canada, Australia and New Zealand, with
USD/CAD
down 0.38% at 1.0372,
AUD/USD
up 0.45% at 0.9232 and
NZD/USD
trading up 0.12% at 0.8016.
The dollar index, which tracks the performance of the greenback versus a basket of six other major currencies, was down 0.44% at 81.81.