Investing.com - The U.S. dollar traded flat to lower against most other major currencies on Tuesday after investors concluded contrasting economic indicators were largely positive in the end and went long on equities, which came at the safe-haven dollar's expense.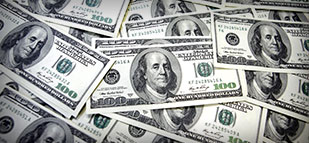 Meanwhile, investors warmed up to a EUR10 billion Cypriot bailout package, determining the plan steers the country away from market-roiling default despite painful bank restructuring terms.
In U.S. trading on Tuesday,
EUR/USD
was up 0.03% at 1.2856.
U.S. economic indicators released earlier sent mixed signals to the market, though as the session wore on, market participants concluded the numbers pointed to an improving U.S. economy.
The Conference Board reported earlier that its index of consumer confidence fell unexpectedly in March, dropping to 59.7 from February's 68.0 reading.
Analysts were expecting the index to remain unchanged in March.
Meanwhile, the U.S. Census Bureau reported that new home sales in the U.S. came in at 411,000 in February, missing expectations for a gain of 422,000 units and well below a 431,000 rise in January.
Home prices, however, continue to improve.
The Standard & Poor's/Case Shiller composite 20-city home price index rose by 8.1% in January after gaining 6.8% in December, beating expectations for a rise by 7.9%.
Also in the U.S., the Census Bureau said that U.S. core durable goods orders fell 0.5% in February from January, defying expectations for a 0.5% rise and well below a 2.9% increase the previous month.
However, overall durable goods orders, which include transportation items, jumped up 5.7% last month, well beyond market calls for a 3.8% increase, following a 3.8% decline in January, which served as a key market driver during Tuesday trading.
Meanwhile, market participants warmed up to Cyprus's EUR10 billion rescue package arranged by its European neighbors and the International Monetary Fund, which called for the closure of the country's second-largest lender, Laiki Bank.
The bailout deal guaranteed that accounts holding EUR100,000 or less will continue to be insured and likely moved to another financial institution, though the fates of larger accounts remained up in the air, with depositors and bondholders facing haircuts.
Still, investors ditched the safe-haven dollar and went long on stocks amid hopes that the eurozone will stay unified, work through its problems and avoid messy defaults and devaluations for now.
The greenback, meanwhile, was down against the pound, with
GBP/USD
trading down 0.14% at 1.5157.
The dollar was up against the yen, with
USD/JPY
trading up 0.33% at 94.47, and down against the Swiss franc, with
USD/CHF
trading down 0.04% at 0.9482.
Bank of Japan Governor Haruhiko Kuroda said earlier he wanted to see inflation rates rise to 2% in two years and added he'd advocate buying more government debt to reach that goal as part of a policy championed by Prime Minster Shinzo Abe of prioritizing growth over keeping inflation rates in a tight range.
The central banker's words weakened the yen.
The dollar was down against its counterparts in Canada, Australia and New Zealand, with
USD/CAD
down 0.46% at 1.0166,
AUD/USD
up 0.19% at 1.0485 and
NZD/USD
trading up 0.48% at 0.8392.
The dollar index, which tracks the performance of the greenback versus a basket of six other major currencies, was down 0.01% at 83.06.
On Wednesday, the U.S. is to produce industry data in pending home sales and a government report on crude oil stockpiles.