Investing.com - The Australian dollar ended Friday's session at a four-day low against its U.S. counterpart, amid ongoing expectations the Federal Reserve will begin tapering its asset purchase program at its upcoming policy meeting.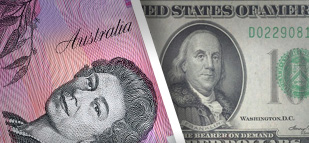 AUD/USD
hit 0.9224 on Friday, the pair's lowest since September 9; the pair subsequently consolidated at 0.9246 by close of trade on Friday, down 0.28% on the day but still 0.6% higher for the week.
The pair is likely to find support at 0.9166, the low from September 9 and resistance at 0.9253, Thursday's high and the highest since June 19.
The Commerce Department said U.S. retail sales rose 0.2% in in August, undershooting expectations for a 0.4% increase.
A separate report showed that the preliminary reading of the University of Michigan's consumer sentiment index fell to a five month low of 76.8, from a final reading of 82.1 in August.
The reports came a week after the latest U.S. employment report showed that the economy added slightly fewer jobs than expected in August.
The disappointing data added to uncertainty over whether the Fed will start to unwind its USD85 billion-a-month asset purchase program at its upcoming policy meeting on September 17-18.
Fed Chairman Ben Bernanke has said that the decision to begin tapering will depend on whether economic data is strong enough.
Meanwhile, in Australia, official data released Thursday showed that the Australian economy cut 10,800 jobs in August, after a downwardly revised 11,400 decline the previous month. Analysts had expected 10,000 jobs to be created last month.
Australia's unemployment rate ticked up to 5.8% in August, from 5.7% in July, in line with expectations.
In the week ahead, investors will be keenly anticipating the outcome of the Fed's policy-setting meeting on Wednesday, and a press conference with Fed chief Ben Bernanke will be closely watched.
Minutes from the most recent Reserve Bank of Australia policy meeting due on Tuesday will also be in focus.
Ahead of the coming week, Investing.com has compiled a list of these and other significant events likely to affect the markets. The guide skips Friday as there are no relevant events on this day.
Monday, September 16
The U.S. is to publish the Empire state manufacturing index, in addition to data on industrial production and the capacity utilization rate.
Tuesday, September 17
The Reserve Bank of Australia is to release the minutes of its latest policy meeting, which contain valuable insights into economic conditions from the bank's perspective.
Australia is to publish data on new vehicle sales, a leading indicator of consumer confidence.
The U.S. is to release data on consumer price inflation, which accounts for a majority of overall inflation.
Wednesday, September 18
Australia is to publish an index of leading economic indicators.
The U.S. is to release official data on building permits, a leading indicator of future construction sector activity, as well as data on housing starts.
The Fed is to announce its federal funds rate and publish its rate statement, which outlines economic conditions and the factors affecting the monetary policy decision. Chairman Ben Bernanke is to hold a press conference after the rate announcement.
Thursday, September 19
The U.S. is to release the weekly report on initial jobless claims, as well as the Philly Fed manufacturing index and data on existing home sales.