Investing.com - The Australian dollar traded slightly lower against its U.S. rival during Tuesday's Asian session after Australian Treasurer Wayne Swan said the strong Aussie is weighing on industry in that country.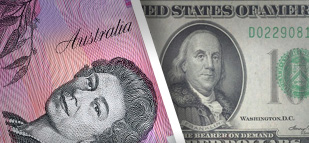 In Asian trading Tuesday,
AUD/USD
inched down 0.01% to 0.9249. The pair is likely to find support at 0.9162, Thursday's low and a 33-month low and resistance at 0.9311, Thursday's session high.
In a speech delivered in Canaberra on Monday, Swan said "It's good to see the Australian dollar depreciating, as it should as our terms of trade weaken and as the U.S. begins the very long journey back to normal monetary policy settings."
Swan added the Federal Reserves plans to taper its USD85 billion-a-month monetary easing program could make Australia's transition away from dependence on the mining sector somewhat easier.
Swan noted that the strong Aussie has hampered Australian farmers and manufacturers. Miners have also been hurt by the strong currency at a time when commodities demand is slack.
In the current quarter, the Australian dollar is down about 11% in the spot market, making it the worst performer among the 10 major developed market currencies.
It is not only speculation the Fed will soon end quantitative easing that is weighing on the Australian dollar and stocks in the world's 12th-largest economy. China is playing a part, too.
Last Thursday, China's HSBC preliminary manufacturing purchasing managers' index fell to 48.3 in June from 49.2 in May as new orders declined, indicating that the slowdown in manufacturing is worsening. China is Australia's largest export market.
Elsewhere,
AUD/JPY
rose 0.16% to 90.55 while
AUD/NZD
inched up 0.08% to 1.1939.