Investing.com - The Australian dollar is trading slightly weaker against its U.S. rival Wednesday in Asian following the release of the Reserve Bank of Australia's Financial Stability Review.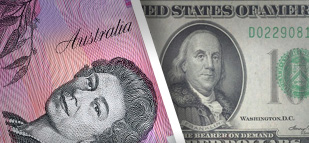 In Asian trading Wednesday,
AUD/USD
fell 0.09% to 1.0476. The pair was likely to find support at 1.0433, Monday's low and resistance at 1.0516, the high of January 7.
In its 66-page Financial Stability Review released earlier today, RBA noted that Australian banks are strong, but the central bank warned of risks, both foreign domestic.
RBA said the situation in Cyprus serves as a reminder of the political and social challenges tied to banking problems and budget woes.
Not surprisingly, the central bank noted lower commodities prices are weighing on Australia's mining sector and related businesses. It is widely expected that the country's mining business will peak later this year.
RBA also said the strong dollar is prompting Australians to save more and borrow less, but those positives are hampered other businesses. Despite those comments, RBA also said it would not be wise for Australians to revert to "imprudent" financial behavior.
The Financial Stability Review did not include overt commentary on interest rates, though it appears most traders believe RBA will leave rates on hold when it meets in early April. Following a spate of positive economic news that indicate a previous round of interest rate reductions are working, RBA may not see the need to lower rates.
Australia's benchmark overnight rate currently resides at 3%, which is high by the standards of many developed world economies. Should RBA keep rates there following the April meeting, the Aussie could rise against the greenback.
Elsewhere,
EUR/AUD
rose 0.10% to 1.2279 while
AUD/JPY
added 0.03% to 99.08.
AUD/NZD
gained 0.02% to 1.2494.