TALLINN, June 9 (Reuters) - The Estonian economy contracted 15.1 percent year-on-year in the first quarter, with low domestic and foreign demand depressing overall output in the Baltic state, the statistics office said on Tuesday.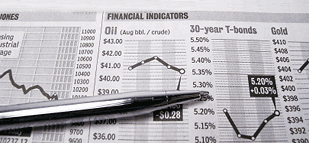 Estonia, like its neighbours Latvia and Lithuania, has been hit by its worst post-Soviet recession because of the global credit crunch and the collapse of a real estate price boom.
Their plight has hurt Nordic banks, many of which had expanded their loan portfolios and helped inflate prices and overheat the small open economies.
Estonia's statistics office said the output drop in the first quarter, slightly less than a 15.6 percent flash estimate released last month, reflected a drop in activity in manufacturing, construction, retail and wholesale trade and transport, storage and communications.
"Domestic demand decreased by 21.4 percent compared to the first quarter of the previous year above all due to the substantial decrease in household final consumption expenditures, gross fixed capital formation and change in inventories," it said.
The Estonian central bank's spring forecast said that in a worst-case scenario, the economy would contract 15.3 percent over 2009 as a whole. (Reporting by David Mardiste, editing by Mike Peacock)