Investing.com - The U.S. dollar turned broadly lower against the other major currencies on Friday, as the release of mixed U.S. economic reports weighed on demand for the greenback, while euro zone financial concerns persisted.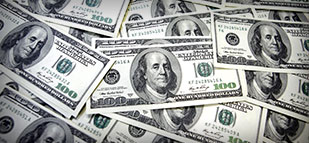 During U.S. morning trade, the dollar was lower against the euro, with
EUR/USD
edging 0.14% higher to 1.3028.
The euro remained under pressure amid speculation over a possible rate cut by the European Central Bank after Goldman Sachs on Thursday said it now expects the ECB to cut rates by 0.25% at next week's policy meeting.
The investment bank also revised down its euro zone growth forecast for 2013 to minus 0.7% from minus 0.5% previously.
Markets were also eyeing a series of new growth measures to be unveiled by the Spanish government, a day after official data showed that the unemployment rate ticked up to 27.2% in the first quarter, from 26.0% in the previous quarter, compared to expectations for a rise to 26.5%.
The greenback was lower against the pound, with
GBP/USD
rising 0.33% to 1.5484.
Elsewhere, the greenback was lower against the yen and the Swiss franc, with
USD/JPY
tumbling 1.65% to trade at 97.62, with
USD/CHF
shedding 0.34% to 0.9416.
The yen found support after the Bank of Japan in a statement reiterated its commitment to enlarge the monetary base by JPY60 trillion to JPY70 trillion a year.
The central bank also predicted inflation will almost match its target in two years.
In Switzerland, data showed that the KOF economic barometer rose to 1.02 in April from a reading of 1.00 the previous month, beating expectations for a fall to 0.98.
The greenback was mixed to lower against its Canadian, Australian and New Zealand counterparts, with
USD/CAD
edging down 0.23% to 1.0178,
AUD/USD
slipping 0.09% to 1.0283 and
NZD/USD
adding 0.22% to 0.8520.
Earlier Friday, official data showed that New Zealand's trade surplus expanded to NZD718 million in March, from a surplus of NZD441 million the previous month, confounding expectations for a decline to NZD373 million.
The dollar index, which tracks the performance of the greenback versus a basket of six other major currencies, was down 0.50% to 82.47.
In the U.S., final data showed that the University of Michigan's consumer sentiment index rose to 76.4 in April, from a reading of 72.3 the previous month, beating expectations for an increase to 73.2.
The data came after the Bureau of Economic Analysis said, in a preliminary report, that U.S. gross domestic product rose 2.5% in the first quarter, less than the expected 3.0% increase, after a 0.4% rise in the previous quarter.