Investing.com - The U.S. dollar pulled back from multi-month lows against the euro and the pound on Wednesday but remained under pressure as hopes for a deal on the U.S. fiscal cliff continued to underpin market sentiment.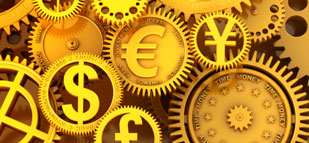 During U.S. morning trade, the greenback was trading within striking distance of its lowest level since early April against the euro, with
EUR/USD
rising 0.26% to 1.3263, down from a session high of 1.3308.
Investor confidence was boosted by signs of progress in negotiations aimed at avoiding the fiscal cliff, automatic tax hikes and spending cuts due to take effect on January 1, which investors fear could threaten U.S. and global growth.
The euro was also boosted after data showed that German business confidence continued to improve in December, in spite of the deteriorating outlook for the euro zone economy.
The dollar was close to 20-month highs against the yen, with
USD/JPY
edging up 0.08% to trade at 84.26, off the session high of 84.62.
The yen was pinned down by expectations that the Bank of Japan would announce more aggressive easing steps after its policy meeting on Thursday following an election victory for Japan's Liberal Democratic Party over the weekend.
Earlier Wednesday, official data showed that Japan posted an annual trade deficit of JPY953.4 billion in November, the fifth successive month of deficit and the third-largest deficit on record.
The greenback was close to three-month lows against the pound, with
GBP/USD
climbing 0.14% to 1.6273.
The pound found support after the minutes of the Bank of England's December policy meeting showed that the monetary policy committee was split eight-to-one, with just one policymaker in favor of further easing this month.
The greenback was hovering above seven-and-a-half month lows against the Swiss franc, with
USD/CHF
down 0.16% to 0.9114.
The greenback was broadly higher against its Canadian, Australian and New Zealand counterparts, with
USD/CAD
rising 0.16% to 0.9870,
AUD/USD
down 0.34% to 1.0498 and
NZD/USD
losing 0.53% to trade at 0.8368.
Sentiment on the commodity linked currencies was hit as growing optimism over progress on the fiscal cliff and the debt crisis in the euro zone saw investors favor the single currency.
The dollar index, which tracks the performance of the greenback versus a basket of six other major currencies, was down 0.21% to a two-month low of 79.20.
In the U.S. official data showed that building permits increased 3.6% in November, to a seasonally adjusted annual rate of 899,000 units, the highest since July 2008. Analysts had forecast a gain of 0.8% to 0.875 million.
However, U.S. housing starts fell by 3% in November to a seasonally adjusted annual rate of 0.861 million, compared to expectations for a 2.5% decline to 0.873 million.