Investing.com - The dollar advanced to two-week highs against the yen on Monday and remained stronger against the other major currencies after Federal Reserve Chairman Ben Bernanke said last week that the bank could start to taper bond buying.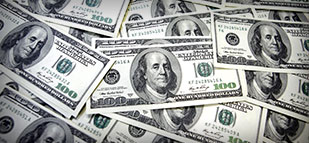 During European morning trade, the dollar was higher against the yen, with
USD/JPY
up 0.64% to 98.46.
Demand for the dollar continued to be underpinned after Bernanke said the bank could begin slowing asset purchases by the end of this year and wind them down completely by the middle of 2014 if the economy continues to pick up.
The yen came under pressure after Japan's ruling party, led by Prime Minister Shinzo Abe, won in majority in Tokyo assembly elections on Monday, indicating support for the government's economic policies.
The dollar was close to two-week highs against the euro, with
EUR/USD
sliding 0.22% to 1.3093.
Sentiment on the euro remained fragile as peripheral euro zone bond yields continued to grind higher amid concerns over the prospect of an end to the Fed's stimulus program.
The yield on Spanish 10-year bonds rose to 5% for the first time since early April on Monday, up from 4.88% on Friday. Meanwhile, the yield on Italian 10-year bonds climbed to 4.71% from 4.58% on Friday.
The single currency showed little reaction after a report showed that the Ifo index of German business climate improved to 105.9 in June from 105.7 in May, in line with market expectations.
Elsewhere, the greenback was higher against the pound, with
GBP/USD
down 0.47% to 1.5347.
The dollar was also stronger against the Swiss franc, with
USD/CHF
climbing 0.23% to 0.9365.
The greenback gained ground against its Australian, New Zealand and Canadian counterparts, with
AUD/USD
dropping 0.61% to 0.9158,
NZD/USD
falling 0.26% to 0.7720 and
USD/CAD
advancing 0.61% to 1.0523.
The dollar index, which tracks the performance of the greenback versus a basket of six other major currencies, was up 0.31% to 82.87.