Investing.com - The dollar was trading in narrow ranges against most of the other major currencies on Tuesday, while the Canadian dollar was boosted after the release of better-than-expected Canadian retail sales data for May.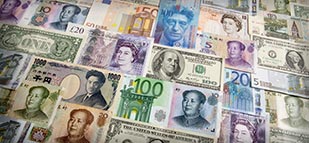 During U.S. morning trade, the dollar pushed higher against the yen, with
USD/JPY
climbing 0.12% to 99.77, up from session lows of 99.15.
The dollar came under pressure earlier in the trading day after data on Monday showing that U.S. existing home sales fell unexpectedly in June dampened expectations that the Federal Reserve will start scaling back its asset purchase program this year.
Last week Fed Chairman Ben Bernanke said the bank could start tapering bond buying by the end of the year if the economy continues to improve, but added that there was no "preset course."
In Japan, the government upgraded its assessment of the economy for the third consecutive month in July, saying "areas of self-sustaining recovery can be observed."
In its monthly economic report, the government also said consumer prices are "leveling off," indicating that deflation is abating.
The dollar fell to session lows against the euro, with
EUR/USD
rising 0.19% to 1.3212.
Trade remained quiet as volumes in foreign exchange markets were lower due to the summer holidays.
Elsewhere, the dollar was little changed against the pound and the Swiss franc, with
GBP/USD
inching up 0.02% to 1.5371 and
USD/CHF
dipping 0.02% to 0.9362.
The greenback fell to almost five-week lows against the Canadian dollar, with
USD/CAD
down 0.41% to 1.0292 after official data showed that Canadian retail sales comfortably beat expectations in May.
Statistics Canada said retail sales jumped 1.9% from a month earlier in May, well above expectations for a 0.4% gain, while core retail sales rose 1.2%, compared to expectations for a 0.1% increase.
The greenback was slightly lower against its Australian and New Zealand counterparts, with
AUD/USD
up 0.12% to 0.9259 and
NZD/USD
easing up 0.09% to 0.7977.
The dollar index, which tracks the performance of the greenback versus a basket of six other major currencies, was down 0.23% to 82.14.