Investing.com - The dollar came off two-and-a-half year highs against the yen on Thursday and remained steady near 14-month lows against the euro after the Federal Reserve said it would maintain its easing program on Wednesday.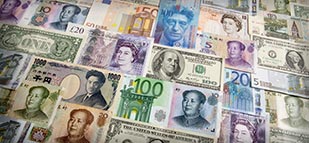 During European morning trade, the dollar slid lower against the yen, with
USD/JPY
down 0.21% to 90.89.
Sentiment on the dollar remained weaker after the Fed said that it will continue its USD85 billion a month quantitative easing program "if the outlook for the labor market does not improve substantially."
The central bank also reiterated that it will continue to hold interest rates close to zero until the U.S. unemployment rate falls below 6.5%.
The statement came after data on Wednesday showed that the U.S. economy contracted 0.1% in the fourth quarter, confounding expectations for growth of 1.1% and a sharp slowdown from growth of 3.1% in the preceding quarter.
The yen remained broadly weaker amid expectations that Japanese Prime Minister Shinzo Abe would keep up pressure on the Bank of Japan to implement more aggressive easing measures to combat deflation.
The greenback was little changed close to 14-month lows against the euro, with
EUR/USD
dipping 0.06% to 1.3555 as the view that the crisis in the euro zone has turned a corner continued to underpin demand for the single currency.
The euro showed little reaction after data showed that the number of unemployed people in Germany fell by 16,000 in January, double expectations for a decline of 8,000.
This was offset by a report showing that German retail sales fell 1.7% in December, the sharpest drop in more than three years.
The greenback was weaker against the pound, with
GBP/USD
rising 0.21% to 1.5833 and dipped against the Swiss franc, with
USD/CHF
inching down 0.07% to 0.9101.
The greenback was broadly lower against its Canadian, Australian and New Zealand counterparts, with
USD/CAD
edging up 0.07% to 1.0020,
AUD/USD
easing up 0.11% to 1.0423 and
NZD/USD
rising 0.18% to 0.8374.
The New Zealand dollar remained supported after the Reserve Bank of New Zealand kept interest rates on hold at 2.5% on Thursday and said it expected economic growth to strengthen over the next year.
The dollar index, which tracks the performance of the greenback versus a basket of six other major currencies, dipped 0.02% to 79.28.
The U.S. was to release the weekly government report on initial jobless claims later in the trading day.