Investing.com - The U.S. dollar was mixed against the other major currencies in holiday-thinned trade on Monday, as investors remained concerned over whether U.S. officials will manage to agree on a deal to avoid a fiscal crisis.
Trading was expected to remain subdued as many investors already closed books to lock in profit before the end of the year, reducing liquidity in the market.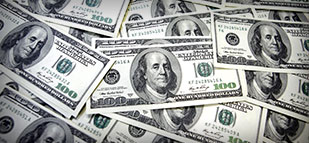 During U.S. morning trade, the dollar was lower against the euro, with
EUR/USD
adding 0.10% to 1.3202.
Markets were jittery as investors continued to monitor developments surrounding the fiscal cliff in the U.S., approximately USD600 billion in automatic tax hikes and spending cuts due to come into effect on January 1.
Doubts over whether a deal will be reached ahead of the year-end intensified late Thursday after House Speaker John Boehner pulled his so-called "Plan B" fiscal cliff option, which called for tax increases only on Americans earning USD1 million or more per year, because his Republican colleagues did not support the legislation.
The U.S. House has adjourned for the Christmas holiday, fueling speculation that policymakers will not be able to avert the fiscal cliff. Without a deal, the U.S. could fall back into recession and drag much of the world down with it.
Adding to concerns, Italian Prime Minister Mario Monti tendered his resignation after only 13 months in office, paving the way for a highly uncertain national election in February.
The greenback was higher against the pound, with
GBP/USD
falling 0.22% to 1.6133.
Elsewhere, the greenback was higher against the yen, with
USD/JPY
climbing 0.54% to trade at 84.72 but lower against the Swiss franc, with
USD/CHF
slipping 0.14% to 0.9147.
The greenback was steady to higher against its Canadian, Australian and New Zealand counterparts, with
USD/CAD
edging down 0.10% to 0.9922,
AUD/USD
falling 0.28% to 1.0371 and
NZD/USD
slipping 0.06% to 0.8226.
The dollar index, which tracks the performance of the greenback versus a basket of six other major currencies, was up 0.03% to 79.66.
There were no major economic releases or earnings in the U.S. on Monday.