Investing.com - The U.S. dollar was trading in narrow ranges against its major counterparts on Thursday, as markets steadied following a sharp sell-off, but concerns over the threat of a Greek exit from the euro zone continued to support safe haven demand.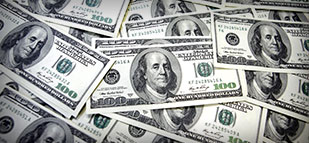 During European morning trade, the dollar was fractionally lower against the euro, with
EUR/USD
inching up 0.03% to hit 1.2718.
The dollar came under pressure after Wednesday's Federal Reserve minutes showed that several policymakers remain open to further efforts to stimulate the U.S. economy if growth falters or if the risks to the economy became great enough.
But the euro remained vulnerable amid ongoing concerns over the outlook for Greece after the European Central Bank said it had placed some Greek banks in an emergency liquidity assistance program, as they are severely undercapitalized.
The greenback was higher against the pound, with
GBP/USD
slipping 0.10% to hit 1.5895.
The pound remained under pressure after Wednesday's Bank of England's quarterly inflation report said inflation will not fall back as quickly as hoped and was likely to remain above the bank's 2% targeted rate for at least another year.
The BoE also revised down economic growth forecasts, sparking fears that policymakers may implement a fresh round of easing measure to shore up the recession hit U.K. economy.
Elsewhere, the greenback was little changed against the yen and dipped lower against the Swiss franc, with
USD/JPY
inching up 0.01% to hit 80.34 and
USD/CHF
inching down 0.01% to hit 0.9445.
In Japan, official data showed that gross domestic product expanded 1.0% in the three months to March, exceeding expectations for a 0.9% increase, following a flat reading in the previous quarter.
The greenback was broadly lower against its Canadian, Australian and New Zealand counterparts, with
USD/CAD
dipping 0.01% to hit 1.0119,
AUD/USD
rising 0.24% to hit 0.9936 and
NZD/USD
adding 0.16% to hit 0.7654.
The dollar index, which tracks the performance of the greenback versus a basket of six other major currencies, dipped 0.04%, to trade at 81.61.
Investors were looking ahead to an auction of Spanish 10-year government bonds later in the day, amid growing concerns over the health of the country's troubled banking sector, while the U.S. was to produce government data on unemployment claims, as well as a report on manufacturing activity in the Philadelphia area.