Investing.com - The dollar rose to session highs against the yen on Wednesday after official data showed that U.S. new home sales jumped to a five-year high in June, boosting the outlook for the economic recovery.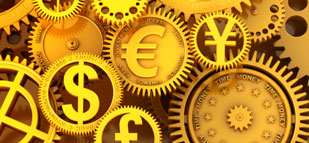 The Commerce Department said U.S. new home sales jumped 8.3% to a seasonally adjusted annual rate of 497,000 units, the highest level since May 2008.
Analysts had expected new home sales to rise 1.8% to an annual rate of 482,000.
The data boosted expectations that the Federal Reserve will start to scale back its bond buying program later this year after Fed Chairman Ben Bernanke said last week that the pace of the bank's bond purchases would depend on economic data.
The dollar was higher against the yen during U.S. morning hours, with
USD/JPY
advancing 0.72% to 100.16, after rising to highs of 100.44 immediately following the data.
Data released earlier Wednesday showed that Japan posted a trade deficit of JPY180.8 billion in July as the weaker yen pushed import costs higher. Imports were up 11.8% from a year earlier, while exports climbed 7.8% on a year-over-year basis.
The dollar was steady close to five-week lows against the euro, with
EUR/USD
edging up 0.06% to 1.3231.
The euro was boosted after data showed that the euro zone composite purchasing managers' index rose to 50.4 in the current month from 48.7 in June, on the back of stronger data from Germany and France.
The data fuelled optimism that the bloc's economy could emerge from a recession in the third quarter.
Germany's manufacturing PMI rose to 50.3 from June's reading of 48.6, and the service sector PMI jumped to 52.5, from 50.4.
The French manufacturing PMI ticked up to a 17-month high of 49.8 from 48.4 in June, while France's services PMI improved to 48.2 from 47.2 last month.
Elsewhere, the dollar pushed higher against the pound and the Swiss franc, with
GBP/USD
slipping 0.09% to 1.5356 and
USD/CHF
edging up 0.07% to 0.9353.
The greenback was broadly higher against its Australian, New Zealand and Canadian counterparts, with
AUD/USD
dropping 0.97% to 0.9205,
NZD/USD
down 0.40% to 0.7965 and
USD/CAD
dipping 0.01% to 1.0286.
The Aussie and the kiwi were hit by concerns over a slowdown in the world's second largest economy after a report Wednesday showed that Chinese manufacturing activity slumped to an 11-month low in July.
The preliminary reading of China's HSBC manufacturing PMI fell to 47.7 in July, from a final reading of 48.2 last month. Analysts had expected the index to rise to 48.6. A reading below 50 indicates a contraction.
In Australia, official data showed that consumer price inflation remained unchanged at 0.4% in the second quarter, compared to expectations for an uptick to 0.5%, dampening expectations for another rate cut by the central bank in August.
The dollar index, which tracks the performance of the greenback versus a basket of six other major currencies, was up 0.12% to 82.17.