Investing.com - The U.S. dollar hit session highs against the broadly weaker euro on Thursday, after the European Central Bank cut its outlook for growth next year, boosting prospects for an interest rate cut in the euro zone.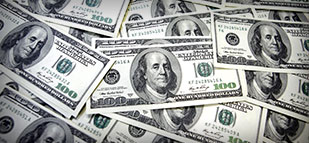 During U.S. morning trade, the dollar gained ground against the euro, with
EUR/USD
dropping 0.74% to 1.2967.
The euro weakened broadly after ECB President Mario Draghi cut forecasts for economic growth and inflation in the euro zone at the central bank's post-policy meeting press conference.
Draghi said the bank expects the euro zone economy to contract by between 0.4% and 0.6% this year and to shrink by between 0.3% and 0.9% in 2013, before returning to growth in 2014.
The central bank also cut the inflation outlook to 2.5% in 2012 and to between 1.1% and 2.1% in 2013.
The ECB left rates unchanged at 0.75% earlier, in a widely expected decision.
Final data on Thursday showed that the bloc's economy contracted by 0.1% in the third quarter, unchanged from the preliminary estimate and confirming a recession after a 0.2% contraction in the previous quarter.
The greenback pushed higher against the pound, with
GBP/USD
slipping 0.20% to 1.6063.
The Bank of England kept interest rates on hold at 0.5% and left the size of its asset purchase program unchanged at GBP375 billion earlier , in a widely anticipated decision.
Meanwhile, official data showed that the U.K. trade deficit widened to GBP9.5 billion in October from GBP8.4 billion the previous month as export demand fell.
The greenback was lower against the yen, with
USD/JPY
down 0.22% to 82.28, but strengthened against the Swiss franc, with
USD/CHF
up 0.69% to 0.9328.
The greenback was weaker against its Canadian, Australian and New Zealand counterparts, with
USD/CAD
down 0.17% to 0.9899,
AUD/USD
rising 0.44% to 1.0500 and
NZD/USD
climbing 0.51% to 0.8330.
The Canadian dollar remained supported by expectations for a rate hike by the Bank of Canada in the coming months; while Thursday's stronger-than-forecast Australian employment data underpinned demand for the Aussie.
The dollar index, which tracks the performance of the greenback versus a basket of six other major currencies, climbed 0.47% to 80.19.
In the U.S., the Department of Labor said the number of people who filed for unemployment assistance last week fell to 370,000 from 395,000 in the previous week, better than analysts' forecasts for a decline to 380,000.
Jobless claims for the preceding week were revised up to 395,000 from a previously reported 393,000.