Investing.com - The dollar rose to fresh four-month highs against the euro on Wednesday and remained lower against the yen as concerns over the situation in the euro zone underpinned investor demand for safe haven assets.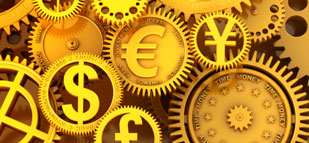 During U.S. morning trade, the dollar rose to its highest level since late November against the euro, with
EUR/USD
falling 0.76% to 1.2762.
The euro weakened broadly as investor focus shifted away from Cyprus back to Italy amid growing doubts over Italy's ability to form a stable government.
The head of Italy's center-left alliance Pier Luigi Bersani ruled out forming a coalition on Wednesday, saying that only an "insane" person would want to govern the country.
Demand at an auction of Italian government debt was soft amid investor concerns over the ongoing political stalemate.
Investors also remained concerned that the bailout deal for Cyprus could set a precedent for future bailouts in larger euro zone states, with big bank depositors and senior bond holders forced to suffer losses.
Elsewhere, data showed that economic confidence across the euro zone declined this month, reversing four months of gains, reinforcing concerns over the economic outlook for the currency bloc.
The dollar extended losses against the yen, with
USD/JPY
falling 0.31% to 94.27, down from session highs of 94.91.
The yen's gains looked likely to remain limited as expectations for more aggressive easing measures by the Bank of Japan remained intact.
The dollar was higher against the pound, with
GBP/USD
dropping 0.37% to 1.5103.
The pound hit session lows against the dollar earlier after official data showed that U.K. gross domestic product contracted by 0.3% in the three months to December, in line with preliminary estimates and economists' forecasts.
Economic growth for 2012 was revised down to 0.2% from a preliminary estimate for 0.3% growth.
The dollar was close to two-week highs against the Swiss franc, with
USD/CHF
advancing 0.69% to 0.9546.
The greenback was broadly higher against its Canadian, Australian and New Zealand counterparts, with
USD/CAD
climbing 0.15% to 1.0175,
AUD/USD
losing 0.63% to trade at 1.0418 and
NZD/USD
down 0.56% to 0.8344.
The Canadian dollar briefly touched five-week highs against the U.S. dollar in early U.S. trade after official data showed that Canadian consumer price inflation rose 1.2% in February, beating expectations for a 1.0% gain.
The dollar index, which tracks the performance of the greenback versus a basket of six other major currencies, was up 0.54% to 83.46.
In the U.S., a report by the National Association of Realtors showed that the pending home sales index slipped 0.4% in February as limited inventory curtailed the market in many areas, but remained at the second highest level in nearly three years.