Investing.com - The dollar extended gains against the other major currencies, rising back above 99 per yen on Monday after ratings agency Standard & Poor's revised its long-term outlook on the U.S. credit rating to stable from negative.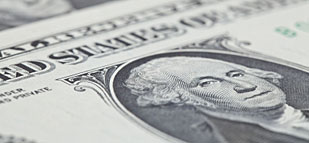 During U.S. morning trade, the dollar rallied against the yen, with
USD/JPY
jumping 1.66% to 99.13.
The revision to the U.S. credit outlook was prompted by the improving economic outlook and the stronger dollar, the ratings agency said.
The yen weakened on Monday following strong gains in Japanese equities overnight. Investors were looking ahead to the outcome of the Bank of Japan's policy meeting on Tuesday after the bank left policy on hold last month.
Revised data on Monday showed that the Japanese economy expanded by 1.0% in the first quarter, up from a preliminary estimate of 0.9%.
A separate report showed that the country posted a larger-than-forecast current account surplus in April, as the weaker yen boosted the value of income from overseas investments.
The dollar was higher against the euro, with
EUR/USD
sliding 0.16% to 1.3199.
Elsewhere, the greenback was higher against the pound and the Swiss franc, with
GBP/USD
slipping 0.10% to 1.5534 and
USD/CHF
rising 0.29% to 0.9385.
Retail sales in Switzerland rose by 3.3% in April from a year earlier data on Monday showed, beating expectations for a 2.4% rise.
The greenback was mixed to higher against its Canadian, Australian and New Zealand counterparts, with
AUD/USD
down 0.43% to 0.9382,
NZD/USD
rising 0.24% to 0.7897 and
USD/CAD
edging down 0.11% to 1.0184.
The Australian dollar remained under pressure after official data over the weekend raised concerns that the economic recovery in China is losing momentum.
Chinese industrial output rose less than expected in May, while exports rose at the slowest pace in almost a year last month and imports fell unexpectedly, pointing to weakening domestic demand.
The dollar index, which tracks the performance of the greenback versus a basket of six other major currencies, was up 0.35% to 82.22.