Investing.com - The dollar turned lower against the other major currencies on Monday after data showing that U.S. durable goods orders fell by the most in almost a year in July dampened expectations for a reduction in stimulus by the Federal Reserve next month.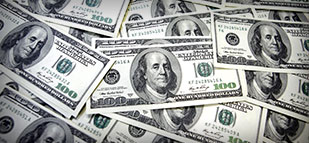 During European afternoon trade, the dollar fell to session lows against the yen, with
USD/JPY
down 0.42% to 98.31.
The Commerce Department said durable goods orders dropped 7.3% in July, worse than expectations for a 4% decline. It was the largest decline since August 2012.
Core durable goods orders, excluding volatile transportation items, fell 0.6% last month, defying expectations for a 0.5% increase.
The data came after a report on Friday showed that U.S. new home sales fell by a larger-than-forecast 13.4% in July, the largest decline in more than three years.
The weak data added to uncertainty over whether the Fed will start to taper its USD85 billion-a-month asset purchase program next month.
The dollar edged lower against the euro, with
EUR/USD
easing up 0.06% to 1.3386.
Demand for the single currency continued to be underpinned after a senior European Central Bank policymaker said Friday he did not see many arguments for a rate cut following a recent series of improved economic data from the region.
The dollar fell to session lows against the pound, with
GBP/USD
up 0.23% to 1.5603.
The dollar gave up gains against the Swiss franc, with
USD/CHF
dipping 0.04% to 0.9214, off highs of 0.9246.
Elsewhere, the greenback was broadly lower against its Australian, New Zealand and Canadian counterparts, with
AUD/USD
rising 0.20% to 0.9043,
NZD/USD
advancing 0.55% to 0.7850 and
USD/CAD
up 0.10% to 1.0508.
In New Zealand, data on Monday showed that the trade balance swung into a larger than expected deficit of NZD774 million in July, from a surplus of NZD374 million the previous month.
The dollar index, which tracks the performance of the greenback versus a basket of six other major currencies, slipped 0.08% to 81.34.
Trade volumes were expected to remain light on Monday, with markets in the U.K. closed for a national holiday.