Investing.com - The U.S. dollar was broadly higher against the other major currencies on Wednesday, as easing expectations pinned down the yen and the euro came under pressure ahead of a European Central Bank policy meeting on Thursday.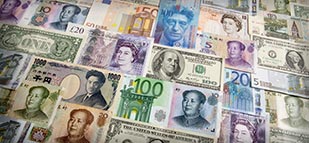 During U.S. morning trade, the greenback was higher against the euro, with
EUR/USD
down 0.28% to 1.3043.
The ECB was widely expected to hold off cutting rates following Thursday's policy meeting, but some market participants expected the bank to flag the possibility of rate cuts later in the year.
Meanwhile, official data showed that German industrial production rose 0.2% November, compared to expectations for a 1% increase, underlining concerns over the outlook for the region's largest economy.
The dollar gained ground against the yen to re-approach last week's two-and-a-half year highs, with
USD/JPY
rallying 0.98% to 87.90.
The yen remained under pressure amid expectations that Japan's new government will pressure the Bank of Japan to step up monetary easing in order to spur growth and combat deflation.
The greenback hit one-month highs against the pound, with
GBP/USD
down 0.30% to 1.6006.
In the U.K., official data showed that the trade deficit narrowed to GBP9.2 billion last month from GBP9.4 billion in October, as exports outstripped imports. Analysts had forecast a deficit of GBP9.1 billion.
The greenback pushed higher against the Swiss franc, with
USD/CHF
rising 0.27% to 0.9266.
The greenback was mixed against its Canadian, Australian and New Zealand counterparts, with
USD/CAD
inching up 0.02% to 0.9868,
AUD/USD
easing up 0.07% to 1.0509 and
NZD/USD
rising 0.27% to 0.8388.
In Canada, data showed that the seasonally adjusted annual rate of housing starts fell to 198,000 units in December from 201,400 units in November, whose figure was revised up from a previously reported 196,100 units.
The dollar index, which tracks the performance of the greenback versus a basket of six other major currencies, was up 0.41% to 80.74.