Investing.com - The U.S. dollar was broadly higher against its major counterparts on Wednesday, as concerns over the ongoing debt crisis in the euro zone lingered, supporting safe haven demand.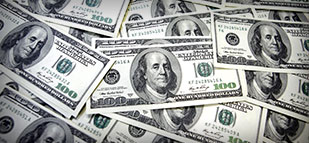 During European morning trade, the dollar was higher against the euro, with
EUR/USD
shedding 0.27% to hit 1.3091.
The euro remained under pressure ahead of a critical auction of two and 10-year Spanish government bonds on Thursday, amid uncertainty over whether the government will be able to reduce one of the euro zone's largest budget deficits in the face of a looming recession.
Meanwhile, concerns over Portugal's economic health intensified after Prime Minister Pedro Passos Coelho said Wednesday there were "no guarantees" that the country would meet its commitment to return to the international capital markets before September 2013.
But the greenback was lower against the pound, with
GBP/USD
rising 0.35% to hit 1.5976.
The pound was boosted after official data showed that the number of people claiming unemployment benefits in the U.K. rose less-than-expected last month, while the unemployment rate ticked down unexpectedly.
Also Wednesday, the minutes of the Bank of England's April meeting showed that just one policymaker voted in favor of additional monetary easing, after two of the nine member monetary policy committee favored additional stimulus in March.
Elsewhere, the greenback was sharply higher against the yen, with
USD/JPY
advancing 0.76% to hit 81.45 and posted solid gains against the Swiss franc, with
USD/CHF
rising 0.38% to hit 0.9187.
The greenback was mostly higher against its Canadian, Australian and New Zealand counterparts, with
USD/CAD
dipping 0.05% to hit 0.9896,
AUD/USD
inching down 0.08% to hit 1.0380 and
NZD/USD
shedding 0.18% to hit 0.8197.
The growth linked currencies remained supported after the International Monetary Fund boosted its global growth outlook to 3.5% from 3.3%, citing an improving U.S. economy.
The dollar index, which tracks the performance of the greenback versus a basket of six other major currencies, was up 0.29% at 79.93.
Later in the day, the U.S. was to release official data on crude oil stockpiles.