Investing.com - The dollar advanced against the other major currencies on Monday ahead of U.S. data on retail sales data on Tuesday, as speculation over when the Federal Reserve could start to pull back its stimulus program continued.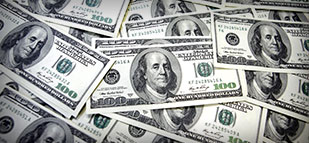 During European morning trade, the dollar rebounded against the yen, with
USD/JPY
climbing 0.44% to 96.67, after briefly falling to lows of 95.93 when data showed that Japan's economy expanded at a slower-than-forecast rate in the second quarter.
Official data released Monday showed that Japan's economy expanded by 0.6% in the second quarter and grew by 2.6% on a year-over-year basis. Economists had forecast growth of 0.9% for the quarter.
The dollar firmed up amid expectations that a strong U.S. retail sales figure for July would point to an early conclusion to the Fed's USD85 billion-a-month asset purchase program.
Elsewhere, the dollar pushed higher against sterling, with
GBP/USD
down 0.26% to 1.5466.
The dollar also gained ground against the euro, with
EUR/USD
losing 0.31% to trade at 1.3302.
The dollar rose to session highs against the Swiss franc, with
USD/CHF
climbing 0.40% to 0.9260.
The Swiss franc was little changed after official data showed that retail sales in Switzerland rose 2.3% from a year earlier in June. Economists had expected retail sales to remain unchanged from May's figure of 1.8%.
The greenback was broadly higher against its Australian, New Zealand and Canadian counterparts, with
AUD/USD
down 0.49% to 0.9152,
NZD/USD
shedding 0.46% to trade at 0.7999 and
USD/CAD
rising 0.26% to 1.0314.
The dollar index, which tracks the performance of the greenback versus a basket of six other major currencies, was 0.32% higher at 81.42.