U.S Stocks fluctuated reaching midday trading, after a four-day rally for the standard and Poor's 500 Index, as Federal Reserve said it will end its $600 billion bond repurchasing program while maintaining record monetary stimulus.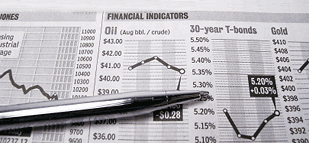 Having in mind the Federal Open Market Committee decided an hour ago to keep benchmark rate unchanged between 0.00% - 0.25% also while the Fed cited the economic recovery is continuing at a moderate pace yet slower than expected.
Now, JPMorgan & Chase Co inclined 1.0 percent, after the company agreed to pay $200 million in settlement to defraud investors.
Adobe Systems Inc, the largest maker of graphic–design software, plummeted 5.25 percent after forecasting profit that fell short of economists' estimates.
FedEx Corp, the operator of the biggest cargo airline, added 3.35 percent after forecasting earnings that may top analysts' estimates as global shipping demand climbs.
Cree Inc slipped 2.07 percent, after Phillips electronics NV said it need to deepen cost-cutting top combat deteriorating demand for lighting and consumer electrical goods.
Moreover, CarMax Inc soared 8.26 percent as reporting first-quarter revenue of $2.68 billion, beating analysts' estimates of $2.54 billion
The Dollar index which measures the performance of the U.S. dollar against a basket of currencies including the Euro, the Pound, and the Yen, fell from today's opening level of 74.76 to currently trade at 74.60 recording its highest level at 74.87 and its lowest at 74.50.
Gold prices hiked to reach $1553.80 per ounce up from the opening price of $1545.02. Oil surged to reach $94.99 after opening at $93.85 per barrel.
The worst performing sectors within the Dow were the Consumer Services shares next to Health Care and Telecommunications shares. The S&P 500's best performing sectors were Financials, Oil & Gas and Industrials shares.
The Dow Jones Industrial Average traded lower by 2.65 points or 0.02 percent at 13:03 New York time reaching 12187.36 levels, The S&P 500 rose 0.84 points or 0.06 percent reaching 1296.36 points. The NASDAQ Composite rose 1.42 points or 0.05 percent reaching 2688.68 points.