Investing.com - Spain saw borrowing costs edge higher at an auction of three- and five-year government bonds on Thursday, as traders continued to monitor steps in handling the euro zone's ongoing debt crisis.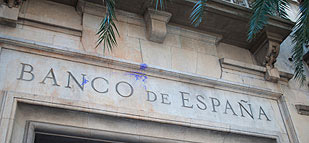 Spain's Treasury sold EUR1.023 billion worth of three-year government bonds at an average yield of 2.875% earlier in the day, up from 2.706% at a previous auction.
In addition, Spain sold EUR2.98 billion of five-year debt at an average yield of 3.792%, up from 3.592% at a similar auction last month.
In total Spain's Treasury sold EUR4 billion worth of debt, in line with expectations.
The yield on Spanish 10-year bonds stood at 4.833% following the auction.
Meanwhile, the euro held on to losses against the U.S. dollar, with
EUR/USD
shedding 0.08% to trade at 1.2999.
European stock markets remained higher following the auction. Spain's IBEX 35 Index rose 0.7%, the EURO STOXX 50 added 0.7%, France's CAC 40 advanced 0.8%, Germany's DAX climbed 0.6%, while London's FTSE 100 tacked on 0.9%.