Investing.com – The U.K.'s current account deficit widened unexpectedly to highest level since records began in 1955 during the third quarter, official data showed on Tuesday.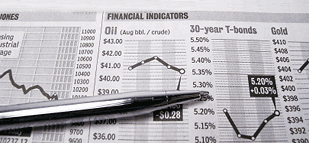 In a report, the U.K.'s National Statistics Office said that the U.K. current account recorded a seasonally adjusted deficit of GBP15.2 billion in the third quarter, increasing from a deficit of GBP7.4 billion in the preceding quarter, whose figure was revised from a deficit of GBP2.0 billion.
Economists had expected the current account deficit to narrow to GBP5.5 billion.
According to the data, the trade deficit widened to GBP9.9 billion in the third quarter of 2011, up from GBP7.2 billion the previous quarter.
The income surplus was GBP0.3 billion, the smallest surplus since the fourth quarter of 2000.
Following the release of that data, the pound remained higher against the U.S. dollar, with
GBP/USD
easing up 0.09% to hit 1.5690.
Meanwhile, European stock markets were broadly higher. The FTSE 100 climbed 1.15%, the EURO STOXX 50 rallied 1.3%, France's CAC 40 jumped 1.2%, while Germany's DAX surged 1.25%.