Investing.com - The euro zone's M3 money supply grew more-than-expected in April, while private loans declined for the 11th consecutive month, official data showed on Wednesday.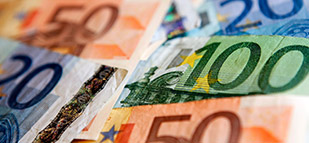 In a report, the European Central Bank said M3 money supply in the single currency bloc rose at annualized rate of 3.2% in April, above expectations for a 2.9% increase.
M3 money supply in the euro zone rose 2.6% in the preceding month.
Loans to private sector declined at a pace of 0.9% annually last month, compared to expectations for a 0.7% drop, after falling 0.7% in March.
Following the release of the data, the euro remained higher against the U.S. dollar, with
EUR/USD
adding 0.13% to trade at 1.2871.
Meanwhile, European stock markets held on to losses. The EURO STOXX 50 fell 0.7%, France's CAC 40 declined 0.8%, Germany's DAX dropped 0.7%, while London's FTSE 100 retreated 1%.