Investing.com - The European Central Bank left its benchmark interest rate unchanged at a record low for the fifth consecutive month in December, it announced on Thursday.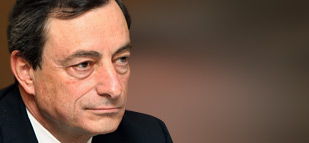 The ECB said it was maintaining the benchmark interest rate at a record-low 0.75%, in line with market expectations.
The central bank also left its marginal lending and deposit facility rates unchanged at 1.50% and 0.0% respectively, as widely expected.
ECB president Mario Draghi was to comment on the decision at a press conference later in the day.
Market participants will scrutinize Draghi's comments for clues in regards to the central bank's next course of action in dealing with an ongoing sovereign debt crisis.
Following the announcement, the euro was little changed against the U.S. dollar, with
EUR/USD
easing down 0.01% to trade at 1.3066.
Meanwhile, European stock markets remained higher. The EURO STOXX 50 added 0.3%, France's CAC 40 rose 0.15%, Germany's DAX advanced 0.9%, while London's FTSE 100 eased up 0.3%.