Investing.com - Oil futures traded modestly higher during Wednesday's Asian despite heightened fears the U.S., the world's largest oil consumer, is inching closer to its first ever sovereign debt default.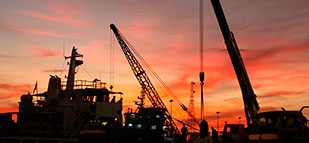 On the New York Mercantile Exchange, light, sweet crude futures for November delivery rose 0.06% to USD101.27 per barrel in Asian trading Wednesday. The November contract settled lower by 1.17% at USD101.21 per barrel on Tuesday.
Oil futures were likely to find support at USD101.08 a barrel, Monday's low, and resistance at USD102.58 a barrel, Monday's high.
Hopes continued to build on Tuesday that U.S. lawmakers and the White House are closer to agreeing on a spending packaged needed to reopen the government and avoid a default.
However, some of that optimism was drained on news that talks between U.S policymakers to reopen the government mired in its first shutdown in 17 years, had stalled.
Fitch Ratings, the only of one of the three major credit ratings agencies that still has an AAA rating on the U.S., put U.S. Treasury bonds on Rating Watch Negative. That could be viewed as a sign Fitch is preparing to pare its rating on U.S. sovereign debt.
"The prolonged negotiations over raising the debt ceiling ... risks undermining confidence in the role of the U.S. dollar as the preeminent global reserve currency, by casting doubt over the full faith and credit of the U.S. This `faith' is a key reason why the U.S. 'AAA' rating can tolerate a substantially higher level of public debt than other AAA" bonds," said Fitch in a statement.
Elsewhere, PIRA Energy Group said of U.S. oil output the "growth rate is greater than the sum of the growth of the next nine fastest growing countries combined and has covered most of the world's net demand growth over the past two years."
Meanwhile, Brent crude futures for November delivery rose 0.19% to USD109.38 per barrel on the ICE Futures Exchange.