Investing.com - Oil futures nudged higher in the early part of Monday's Asian session after crude touched a three-week low last week.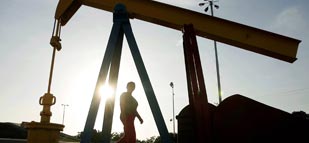 On the New York Mercantile Exchange, light, sweet crude futures for August delivery inched up 0.05% to USD93.74 per barrel in Asian trading Monday after settling down 1.3% last Friday to close the week at USD93.89 a barrel.
Oil prices plunged 3% on Thursday after Fed Chairman Ben Bernanke said the central bank could begin slowing asset purchases by the end of 2013 and wind them down completely by the middle of 2014 if the economy picks up as the central bank expects.
The central forecast 2013 U.S. economic growth of 2.3% to 2.6% while adding it expects the unemployment rate to drop to between 6.5% and 6.8% by the end of 2014. Since the U.S. is the world's largest oil consumer, those numbers are pivotal to oil demand, but the forecasts may not be robust enough for some traders to send oil higher.
China, the world's second-largest oil consumer, is perhaps even more of a concern. Last week, China's HSBC preliminary manufacturing purchasing managers' index fell to 48.3 in June from 49.2 in May as new orders declined, indicating that the slowdown in manufacturing is worsening.
Elsewhere, Iraq said it exported 76.9 million barrels of oil last month, or 2.48 million barrels per day, a 5% drop from April's numbers. Iraq, an OPEC member cited poor weather and pipeline sabotage as reasons for the output decline.
China's Sinopec, that country's second-largest oil producer, will reportedly pay USD1.52 billion for Marathon Oil's Angolan offshore oil and gas field. Marathon is based in Texa.
Meanwhile, Brent futures for August deliver fell 0.27% to USD100.66 per barrel on the ICE Futures Exchange.