Investing.com - Oil futures traded slightly lower in the early part of Thursday's Asian session despite some positive data points out Wednesday.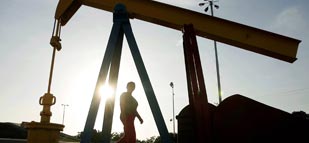 On the New York Mercantile Exchange, light, sweet crude futures for June delivery inched lower by 0.03% to USD96.59 per barrel in Asian trading Thursday after up 0.74% at USD96.33 a barrel on Wednesday.
Oil and other commodities were propped up by some decent data out of Germany and the U.S.
Germany's industrial output, which includes manufacturing, mining, electricity and gas concerns, shot up 1.2% in March, the largest increase in a year and defying expectations for a 0.1% decline. February's figure was revised up 0.6% from 0.5%.
Official data released on Tuesday revealed that German factory orders climbed 2.2% in March, defying expectations for a 0.5% decline. Germany is the euro zone's largest economy.
In U.S. economic news, the Mortgage Bankers Association said the number of mortgage applications filed in the U.S. last week rose 7% while the refinancing index increased 8%.
During Wednesday's Asian session, data showed China's oil imports rose 3.5% in April and have increased 3.7% on a year-over-year basis. The world's second-largest oil consumer imported an average of 5.62 million barrels per day last month.
Elsewhere, Alberta's Energy Resources Conservation Board said the region in Western Canada could double its output to 3.8 million barrels per day by 2022. Canada's oil sands region is believed to be home to the world's third-largest reserves behind OPEC members Saudia Arabia and Venezuela.
Meanwhile, Brent crude futures for June delivery rose 0.31% to USD104.53 per barrel on the ICE Futures Exchange.