Investing.com - Oil futures inched lower in Tuesday's Asian session despite some headlines out of the Middle East that might normally been seen as supportive of crude.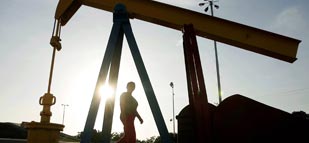 On the New York Mercantile Exchange, light, sweet crude futures for June delivery nudged lower by 0.11% to USD94.40 per barrel in Asian trading Tuesday after settling up 1.19% at USD94.11 a barrel on Monday.
A pair of decent U.S. data points helped lifted oil futures on Monday. In U.S. economic news, the Commerce Department said personal incomes and spending each rose 0.2% in March. Economists expected the March reading of personal spending would be unchanged, but they expected a 0.4% increase in personal income.
The National Association of Realtors said its pending home sales index rose 1.5% to 105.7 last month, good for the highest reading in nearly three years. Signed contracts jumped 7% on a year-over-year basis. The U.S. is the world's largest oil consumer.
Elsewhere, media reports said that ongoing violence in Libya is hampering oil production in the North African nation. Libya's oil minister said production interruptions have cost his country USD1 billion a month for the past five months.
In March, U.S. oil majors ConocoPhillips, Hess and Marathon Oil, in concert with Libya's National Oil Corporation canceled a contract because of protests that lasted longer than two weeks.
The he U.S. Energy Information Administration said sanctions by the West on Iran have cut that country's oil output to 26-year lows. Iran and Libya are both members of the Organization of Petroleum Exporting Countries. Libya is home to Africa's largest oil reserves.
Meanwhile, Brent futures for June delivery inched up 0.02% to USD103.81 per barrel on the ICE Futures Exchange.